Get an
Argentina

Virtual Phone Number
Communicating with your customers in Argentina has never been easier than with a virtual Argentinian phone number. At TollFreeForwarding.com, we offer a flexible service and a free trial you can cancel any time. Our local Argentina phone numbers start as little as $7 per month!

As your new Argentina phone number is cloud-based, you can forward calls anywhere. Direct calls to your existing call center, landline, or PBX, and never worry about missing a call again.
Powerful Virtual Phone Features from TollFreeForwarding.com
How It Works - 3 Simple Steps
1
Choose Your Number
Select a local, national or toll-free number from our vast inventory
2
Activate
Let us handle the sign-up - it takes just 3 minutes
3
Receive Calls
Immediately start receiving calls and servicing your customers
GET YOUR PHONE NUMBER NOW
See why over 20,000 customers trust TollFreeForwarding for their virtual phone number needs
Advanced Features of Argentina Virtual Phone Numbers
Scheduled Time of Day Routing
Robust scheduling options allow you to route your calls based on the days and hours of your business. Route your calls to your main call center during business hours and to voicemail during non-business hours.
Real Time Reporting
Instantly view detailed information about calls made to your TollFreeForwarding phone number. Learn about your customers' call habits to help make decisions about outbound sales and follow-up.
Interactive Voice Response (IVR)
Greet your callers with a custom greeting and an intuitive Interactive Voice Response menu. Simply by pressing a number on their keypad, callers can be connected straight through to the correct department or person for their query.
Get your phone number now
Why Choose an Argentina Virtual Phone Number?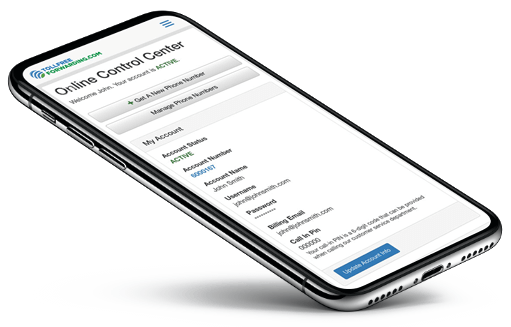 Argentina offers a wide range of business benefits, making it ideal for businesses looking to expand internationally. Argentina has a strong economic business environment and a number of prominent industrial business sectors. However, physically entering the Argentinian market is costly and time-consuming.
With a virtual Argentina phone number, you can easily connect with your Argentinian customers from anywhere in the world, and you don't need a physical in-country location. And our virtual Argentina numbers are cloud-based so you don't need any special equipment to get started.
Get your phone number now
How to Buy an Argentina Phone Number Online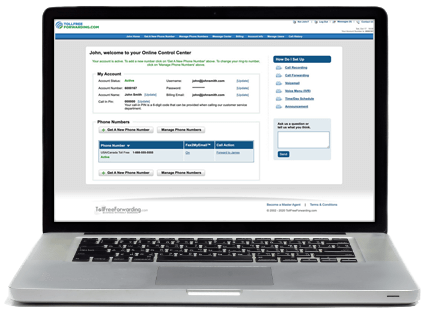 Argentina's regulatory guidelines require businesses to provide documents proving their business name, business address, and commercial registry number. The complete process is as follows:
Choose your desired number type
Provide additional documentation
We take care of registration on your behalf
Start receiving calls
Visit our blog on purchasing an Argentina phone number to learn more about the process and documents you need to provide.
Get your phone number now
Argentina Phone Number FAQs
Why do I need an Argentina virtual number?

There are a number of benefits to an Argentina virtual number. It helps connect you seamlessly to your Argentinian customer base, offering local Argentina phone numbers that can be forwarded to any existing phone line, anywhere in the world. This means you can establish a presence in Argentina without the need for a physical office space there.

An Argentina phone number with TollFreeForwarding.com also comes with a range of features and benefits allowing you to adapt your call forwarding settings to your needs. An example is time-of-day routing, which allows you to adapt calls to your schedule, forwarding them to different locations depending on when the call is made. This enables you to send calls to a main call center or head office during the day, and to a cell, landline, or voicemail out of hours.

You can even set up a bespoke chain of re-routes, so if the first number isn't reached, the call can be sent elsewhere. Additional features such as voicemail to email mean missing an important call will soon be a thing of the past.

What cities can I get an Argentinian number in?

As well as Argentina toll free numbers, we offer numbers in a range of Argentinian cities. These include Buenos Aires, Santa Fe, San Juan, Mendoza, Parana, and many more. You can explore the full list in the drop-down at the top of this page.

How to call Argentina number?

Argentina's country code is +54. Argentina phone numbers are ten digits long. They include an area code of either two, three, or four digits with the remaining digits being the subscriber number. For example, +54 XX [XXXX-XXXX].
Join over 20,000 customers already using TollFreeForwarding
Setup in just one minute. No credit card required. Cancel any time.
Get your phone number now
Argentina Phone Number Information
Phone numbers in Argentina are 10 digits, made up of a location-based area code and then a subscriber code. Depending on location, the area code is made up of either 2, 3, or 4 digits. The remaining 8, 7, or 6 digits are then the subscriber number. The area code for Buenos Aires is 11 so an example Buenos Aires phone number, formatted with the Argentina country code, would be +54 11 XXXX-XXXX.
At TollFreeForwarding.com, we offer toll free and local phone numbers in Argentina as well as a number of locations all around the world. For some of our popular virtual number options in Argentina, visit the pages below.
---
---