Get a
Germany

Virtual Phone Number
Local and toll-free German phone numbers that people in Germany can use to call your existing phone lines, wherever you are in the world!

Our virtual phone system come with a range of advanced call forwarding features, so it's easy for people in Germany to reach you, day or night. Your German telephone number will be active in just a few minutes and then you can add, remove or edit your phone numbers using a cloud-based platform.
Powerful Virtual Phone Features from TollFreeForwarding.com
How It Works - 3 Simple Steps
1
Choose Your Number
Select a local, national or toll-free number from our vast inventory
2
Activate
Let us handle the sign-up - it takes just 3 minutes
3
Receive Calls
Immediately start receiving calls and servicing your customers
GET YOUR PHONE NUMBER NOW
See why over 20,000 customers trust TollFreeForwarding for their virtual phone number needs
Advanced Features of Germany Virtual Phone Numbers
Scheduled Time of Day Routing
Robust scheduling options allow you to route your calls based on the days and hours of your business. Route your calls to your main call center during business hours and to voicemail during non-business hours.
Real Time Reporting
Instantly view detailed information about calls made to your TollFreeForwarding phone number. Learn about your customers' call habits to help make decisions about outbound sales and follow-up.
Interactive Voice Response (IVR)
Greet your callers with a custom greeting and an intuitive Interactive Voice Response menu. Simply by pressing a number on their keypad, callers can be connected straight through to the correct department or person for their query.
Get your phone number now
Why Choose a Germany Virtual Phone Number?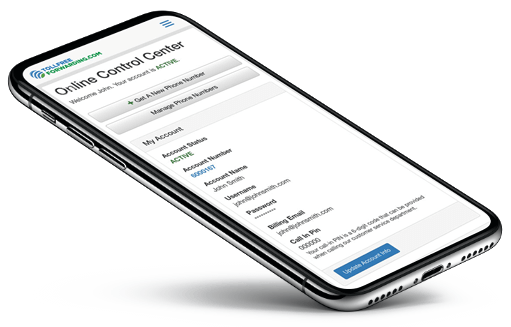 Germany is an industrious country with a large consumer market, making it an ideal option for businesses looking to expand. A German virtual number allows you to take advantage of all that Germany has to offer at a fraction of the cost of physical expansion.
Our German virtual numbers are cloud-based and can be forwarded anywhere in the world, whether that be to your business line in the U.S. or a call center in central Asia. Manage your number directly from an online dashboard, where you can add, edit, or remove lines with ease. Choose a German virtual phone number and connect with your local customers today.
Get your phone number now
How to Buy a German Phone Number Online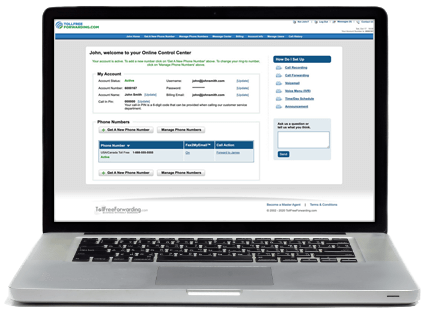 Getting started with a Germany virtual phone number is easy, as we take care of the majority of the process on your behalf. However, according to German regulations, you will need to provide special documentation to obtain a German phone number. The complete process is as follows:
Choose your desired number type - select whether you want a local, national, or toll free German phone number.
Provide additional documentation - German regulatory guidelines require you to provide the official documents with the following information: proof of business name, business address, and VAT number.
We take care of registration for you - once you've selected your desired number type and provided the required documents, a member of our support team will register on your behalf.
Start receiving calls - after the registration process is completed, you can begin accepting calls to your new number immediately.
Choose your desired number type today and connect with your local German customer base!
Get your phone number now
German Phone Number FAQs
What is a German virtual number?

A virtual number is a phone number that isn't tied to any specific phone line. Instead, it uses the power of the cloud to redirect calls to any chosen existing phone line, anywhere in the world. This means you can choose a virtual number in Germany and establish a presence in the country, even if your offices are based elsewhere. For example, you may be looking to grow your audience in Berlin but your head office is based in the USA – with a virtual number in Germany, you can opt for a local, recognizable number and build trust and familiarity with your audience overseas.

How do I get a virtual number in Germany?

Getting a German phone number with TollFreeForwarding.com is quick and easy. Simply take a look at our vast inventory of German phone numbers and select the option you require for your business. It can all be done online or, if you prefer, call our friendly customer service team who will be happy to talk you through your options.

How to call Germany number?

Germany phone numbers consist of three part, the country code, area code, and personal number. Germany's country code is +49. An example of a German number would be +49 XX-XXXXXX.
Join over 20,000 customers already using TollFreeForwarding
Setup in just one minute. No credit card required. Cancel any time.
Get your phone number now
German Phone Numbers
A phone number in Germany is written is three parts, beginning with the country code +49. Next is an area code, which depends on district, or a cellphone code. The final range of digits is unique to the phone number. A Germany phone number example would be formatted as [+49] [XX] [XXXXXX], making up the country code, area code, and phone number. The Germany toll-free number format is [+49] [0800] [XXXXXX]. Other local Germany dialing codes are listed below. Click a location for pricing and to set up a German phone number today.
---
---