Get a
Hong Kong

Virtual Phone Number
A Hong Kong phone number is the perfect way to build trust and familiarity with your customer base, no matter where you're located. With bespoke call forwarding, you can direct calls from Hong Kong to your existing landline, office, mobile, or PBX.

With advanced features including time and day scheduling, bespoke call forwarding and voicemail to email, a virtual Hong Kong number ensures you're always connected.
Powerful Virtual Phone Features from TollFreeForwarding.com
How It Works – 3 Simple Steps
1
Choose Your Number
Select a local, national or toll-free number from our vast inventory
2
Activate
Let us handle the sign-up - it takes just 3 minutes
3
Receive Calls
Immediately start receiving calls and servicing your customers
GET YOUR PHONE NUMBER NOW
See why over 20,000 customers trust TollFreeForwarding for their virtual phone number needs
Advanced Features of Hong Kong Virtual Phone Numbers
Scheduled Forwarding
Robust scheduling options allow you to route your calls based on the days and hours of your business. Route your calls to your main call center during business hours and to voicemail during non-business hours.
Real Time Reporting
Instantly view detailed information about calls made to your TollFreeForwarding phone number. Learn about your customers' call habits to help make decisions about outbound sales and follow-up.
Call Recording
Keep track of your calls by recording all or some of your calls. Recorded calls are stored in call detail records and can be played or downloaded at any time.
GET YOUR PHONE NUMBER NOW
Hong Kong Phone Numbers with Exceptional Quality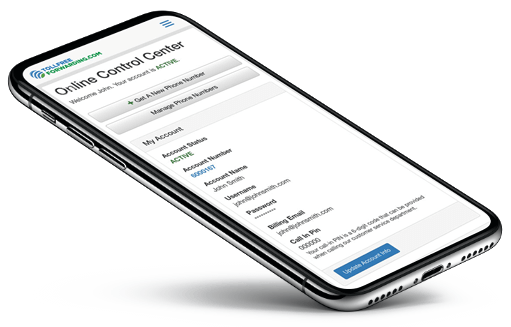 In any business, keeping an open line of communication with your customer is key. With a Hong Kong phone number from TollFreeForwarding.com, you can do just that. As they're based in the cloud, our Hong Kong numbers allow you to stay connected no matter where in the world you're located.
Choose a toll free VOIP Hong Kong phone number and enjoy crisp, clear call quality every time. Our Hong Kong virtual numbers utilize the most sophisticated Cloud PBX telecommunication technology, cycling through a range of carriers for each call so you and your customers can speak as though you're standing in the same room.
GET YOUR PHONE NUMBER NOW
Choose a Hong Kong Number with Transparent Pricing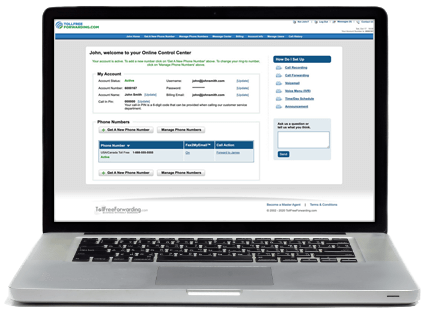 Our plan options for call forwarding in Hong Kong are simple and transparent, with the option to change or cancel at any time. If this is your first Hong Kong phone number, you may prefer to try pay as you go or a starter package, so you're only paying for the Hong Kong minutes you need. Expecting a large volume of calls to your Hong Kong telephone number? Choose a high volume package, for more call minutes at a better rate for you.
We have no set-up fees and getting started is easy. To see how a Hong Kong contact number can benefit you and your business, just select a free trial today.
GET YOUR PHONE NUMBER NOW
Frequently Asked Questions
How do I get a Hong Kong phone number?

It's incredibly quick and easy to get a Hong Kong phone number with TollFreeForwarding.com – you can even opt for a free trial of 20 days before you commit to a new Hong Kong telephone number.

If you want to sign-up, the process is simple. Just take a look at the options we have available at the top of the page and select from Hong Kong toll free, Hong Kong national, and Hong Kong mobile depending on your needs. You can then scroll through the virtual numbers we have available and select the one you want. From here, we'll just need a few details from you, and we'll sort the rest! As everything is based in the cloud, there's no costly equipment or complicated setup – everything can be done easily online.

Of course, if you prefer, you can contact our friendly team who will be happy to talk you through your options and get you started.

How many digits is a local Hong Kong phone number?

In Hong Kong, local phone numbers tend to be eight-digits. For call forwarding services, this number is prefaced by the digit 8. Therefore, a Hong Kong toll free number would be formatted as 8 XXXX XXXX.

How quickly can I get a virtual number in Hong Kong?

Setup with TollFreeForwarding.com can take as little as three minutes, so you could be connecting with customers in Hong Kong before you know it.
Join over 20,000 customers already using TollFreeForwarding
Setup in just one minute. No credit card required. Cancel any time.
GET YOUR PHONE NUMBER NOW
Hong Kong Number Information
The international dialing code for Hong Kong is +852, and toll free numbers in Hong Kong begin with the prefix 800. Since 1989, there have been no specific area codes in Hong Kong. Instead, local fixed landline numbers begin with the set national area code of 2 or 3.
At TollFreeForwarding.com, we're proud of the extensive inventory of virtual numbers we offer. Our toll free numbers help connect customers and businesses all around the world. Explore some of our popular virtual number options below.
---
---