Get a
UK

Virtual Phone Number
Make it easy for people in the UK to call, with a UK Virtual Phone Number. Choose a toll-free number (also known as Freephone or Freefone number in the UK), or a local number anywhere in England, Scotland, Wales or Northern Ireland. Our simple set-up means you could be receiving calls in just a few minutes.

Tollfreeforwarding.com's Smart Call Forwarding features include time-day scheduling, voice menus (IVR), auto attendant, fax to email, voicemail to email, and usage reporting.
Powerful Virtual Phone Features from TollFreeForwarding.com
How It Works - 3 Simple Steps
1
Choose Your Number
Select a local, national or toll-free number from our vast inventory
2
Activate
Let us handle the sign-up - it takes just 3 minutes
3
Receive Calls
Immediately start receiving calls and servicing your customers
GET YOUR PHONE NUMBER NOW
See why over 20,000 customers trust TollFreeForwarding for their virtual phone number needs
Advanced Features of UK Virtual Phone Numbers
Scheduled Time of Day Routing
Robust scheduling options allow you to route your calls based on the days and hours of your business. Route your calls to your main call center during business hours and to voicemail during non-business hours.
Real Time Reporting
Instantly view detailed information about calls made to your TollFreeForwarding phone number. Learn about your customers' call habits to help make decisions about outbound sales and follow-up.
Interactive Voice Response (IVR)
Greet your callers with a custom greeting and an intuitive Interactive Voice Response menu. Simply by pressing a number on their keypad, callers can be connected straight through to the correct department or person for their query.
Get your phone number now
Why Choose a Virtual UK Phone Number?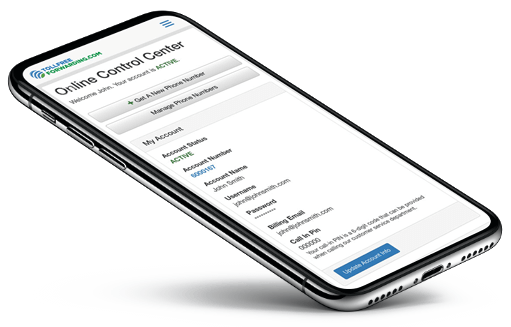 The United Kingdom boasts a thriving consumer market, making it an ideal selection for businesses looking to expand internationally. A UK virtual number allows you to easily enter the UK market without having to dedicate the time, money, and resources required for physical expansion.
Whether you have an existing UK customer base or are new to the market, UK virtual phone numbers are the easiest and most cost-effective way to connect with your UK clients from anywhere in the world. And with our cloud-based numbers, you never have to worry about maintaining any complex or expensive equipment. Simply manage your number directly from your online dashboard. Explore our selection of UK virtual numbers and choose one the best suits your needs.
Get your phone number now
How to Buy a UK Phone Number Online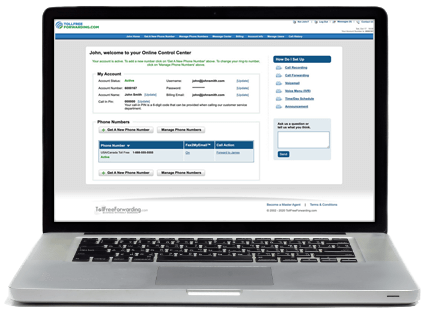 The UK does not require you to submit any special documents when signing up for a UK virtual phone number. The steps for purchasing a UK phone number online include:
Choose your desired number type - select whether you want a local, national, or toll free UK phone number.
We take care of registration for you - once you've selected your desired number type, a member of our support team will register on your behalf.
Start receiving calls - after the registration process is completed, you can begin accepting calls to your new number immediately.
Browse our complete selection of UK phone numbers today to find the option that meets your business needs.
Get your phone number now
Virtual UK Phone Number FAQs
Join over 20,000 customers already using TollFreeForwarding
Setup in just one minute. No credit card required. Cancel any time.
Get your phone number now
More UK Phone Number Information
Geographical numbers in the UK feature an area code, dependent on region, before a six-digit figure. British area codes begin with either 01 or 02, followed by two, three, four, or five digits. For example, the area code for London is 020, while for Manchester it is 0161. A UK phone number would therefore be formatted as follows: (Area code) XXX XXX.

Toll free phone numbers in the UK begin with either 0800 or 0808. For more information on UK phone number formats, visit Ofcom. To find out more about specific numbers we offer in the UK, use the dropdown at the top of this page or visit the pages linked below:
---
---