Get a
Canada

Virtual Phone Number
Simply choose your local or toll-free (800) phone number, and start receiving calls from Canada in just a few minutes. No hardware, no contracts and no fuss.

Virtual phone numbers can be dialed from Canada, automatically forwarding to your existing phone lines or PBX wherever they are located. Smart call forwarding features include voice menus, time/day scheduling, call recording and usage reporting.
Powerful Virtual Phone Features from TollFreeForwarding.com
How It Works - 3 Simple Steps
1
Choose Your Number
Select a local, national or toll-free number from our vast inventory
2
Activate
Let us handle the sign-up - it takes just 3 minutes
3
Receive Calls
Immediately start receiving calls and servicing your customers
GET YOUR PHONE NUMBER NOW
See why over 20,000 customers trust TollFreeForwarding for their virtual phone number needs
Advanced Features of Canada Virtual Phone Numbers
Scheduled Time of Day Routing
Robust scheduling options allow you to route your calls based on the days and hours of your business. Route your calls to your main call center during business hours and to voicemail during non-business hours.
Real Time Reporting
Instantly view detailed information about calls made to your TollFreeForwarding phone number. Learn about your customers' call habits to help make decisions about outbound sales and follow-up.
Interactive Voice Response (IVR)
Greet your callers with a custom greeting and an intuitive Interactive Voice Response menu. Simply by pressing a number on their keypad, callers can be connected straight through to the correct department or person for their query.
Get your phone number now
Make your Mark in Canada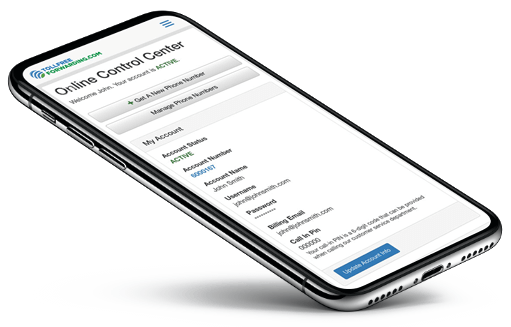 TollFreeForwarding.com's routing system transfers calls to your office, PBX, or call center. You can forward customer calls to wherever you or your customer service agents are located, meaning you need never miss a call again.
What's more, with our state-of-the-art telecommunications technology, you can enjoy crystal clear call quality each and every time – no matter where your customers are calling from. Keeping in touch with your customer base has never been easier. Entering the Canadian market? Read about the best cities for business in Canada here
Get your phone number now
Canadian Phone Numbers For Less!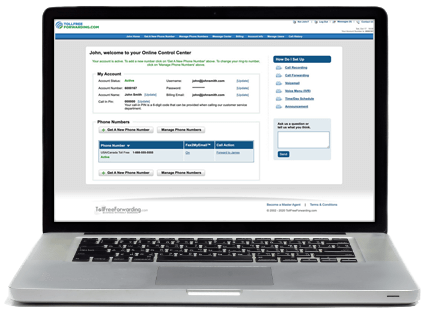 Our simple and clear pricing makes a toll-free Canadian number a possibility for businesses of all sizes. Starting at just $4 a month, you can choose from a plethora of pricing options to suit all needs.
With pay-as-you-go, you only pay for the forwarding minutes you use, allowing you the flexibility to try us out and discover the benefits. Alternatively, you can save by investing in pre-paid bundles at fixed monthly prices, which come with discounted rates for additional minutes.
Get your phone number now
Canada Virtual Number FAQs
Join over 20,000 customers already using TollFreeForwarding
Setup in just one minute. No credit card required. Cancel any time.
Get your phone number now
Canadian Phone Numbers
Telephone numbers in Canada follow the Bell System, which is a fixed-length format. Canadian phone numbers consist of the Canada country code (+1), a three-digit area code, a three-digit exchange code, and finally a four-digit station code. The leading country code, +1, is only used when placing a long-distance call – local calls within Canada don't need this prefix. There are a variety of different area codes across Canada, depending on the province or territory you are trying to reach. An example Canada phone number would be written as +1 (XXX) XXX-XXXX. Click an area below for pricing and set up a new Canadian phone number.
---
---