Get an
Israel

Virtual Phone Number
Expand into the Israeli market with a virtual phone number. We use state-of-the-art telecommunications technology to select the highest quality connection for each call, so bad international connections are a thing of the past.

With our bespoke call forwarding, you can direct calls from your Israel number to any location. Our fast set-up means you could be receiving calls from Israel in just 3 minutes.
Powerful Virtual Phone Features from TollFreeForwarding.com
How It Works - 3 Simple Steps
1
Choose Your Number
Select a local, national or toll-free number from our vast inventory
2
Activate
Let us handle the sign-up - it takes just 3 minutes
3
Receive Calls
Immediately start receiving calls and servicing your customers
GET YOUR PHONE NUMBER NOW
See why over 20,000 customers trust TollFreeForwarding for their virtual phone number needs
Advanced Features of Israel Virtual Phone Numbers
Scheduled Time of Day Routing
Robust scheduling options allow you to route your calls based on the days and hours of your business. Route your calls to your main call center during business hours and to voicemail during non-business hours.
Real Time Reporting
Instantly view detailed information about calls made to your TollFreeForwarding phone number. Learn about your customers' call habits to help make decisions about outbound sales and follow-up.
Interactive Voice Response (IVR)
Greet your callers with a custom greeting and an intuitive Interactive Voice Response menu. Simply by pressing a number on their keypad, callers can be connected straight through to the correct department or person for their query.
Get your phone number now
Expand Your Business with an Israel Phone Number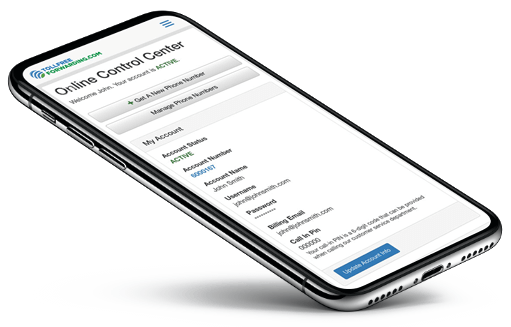 If you want to establish a local feel for your global business, but don't want to open a physical location in Israel, then you need an Israel phone number from TollFreeForwarding. Our Israel numbers are cloud-based which means no external equipment or maintenance for you. Your Israel phone number is supported 24/7 by a dedicated support team, allowing you to focus on supporting your customers.
Our Israel phone numbers come with flexible payment options. Our pay-as-you-go service starts at just $4 a month and allows you to add minutes as you need them. Or, if you prefer a prepaid monthly service plan, you can pre-load your account with the minutes you need, saving money in the process. No matter your budget, our Israel phone numbers have a plan that works for you.
Get your phone number now
Israel Phone Numbers with Quick and Easy Setups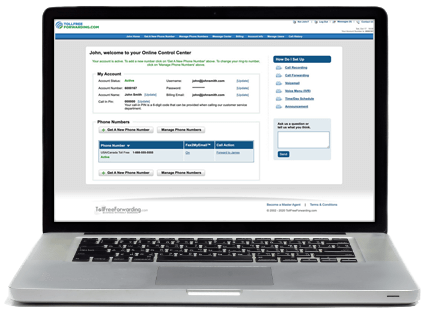 Getting started with an Israel phone number has never been easier. To begin, you will need to decide whether you want a local or national number. Then, a member of our support team will help you set up your Israel number by forwarding it to the desired location. You can then begin accepting calls to your Israel phone number in as little as three minutes.
Need to make changes to your Israel phone number? Our Israel numbers are cloud-based, which means making adjustments is as easy as ever. Simply access your account online and add, edit, or remove lines as needed. Moreover, our dedicated support team is available to assist you 24 hours a day, 7 days a week.
Get your phone number now
Frequently Asked Questions
Join over 20,000 customers already using TollFreeForwarding
Setup in just one minute. No credit card required. Cancel any time.
Get your phone number now
Israel Phone Number Information
Israel phone numbers consist of 11 numbers split into groups of 3. To call an Israel phone number, dial the country code+area code+7-digit number. The country code for Israel is +972.
At TollFreeForwarding.com, we offer an extensive inventory of virtual numbers in countries and cities across the world. Explore some of our options below:
---
---