Get a
Mexico

Virtual Phone Number
At TollFreeForwarding.com, we offer quick and easy set-up with no extra costs or complicated software. Simply choose your number type and provide the necessary documents, and we'll take care of the rest! Our local Mexico numbers start at as little as $7 per month.

As your new phone number in Mexico is based in the cloud, you can forward calls to any location in the world. From your existing office to your landline or mobile, never miss an important call again.
Powerful Virtual Phone Features from TollFreeForwarding.com
How It Works - 3 Simple Steps
1
Choose Your Number
Select a local, national or toll-free number from our vast inventory
2
Activate
Let us handle the sign-up - it takes just 3 minutes
3
Receive Calls
Immediately start receiving calls and servicing your customers
GET YOUR PHONE NUMBER NOW
See why over 20,000 customers trust TollFreeForwarding for their virtual phone number needs
Advanced Features of Mexico Virtual Phone Numbers
Scheduled Time of Day Routing
Robust scheduling options allow you to route your calls based on the days and hours of your business. Route your calls to your main call center during business hours and to voicemail during non-business hours.
Real Time Reporting
Instantly view detailed information about calls made to your TollFreeForwarding phone number. Learn about your customers' call habits to help make decisions about outbound sales and follow-up.
Interactive Voice Response (IVR)
Greet your callers with a custom greeting and an intuitive Interactive Voice Response menu. Simply by pressing a number on their keypad, callers can be connected straight through to the correct department or person for their query.
Get your phone number now
Why Choose a Mexico Virtual Phone Number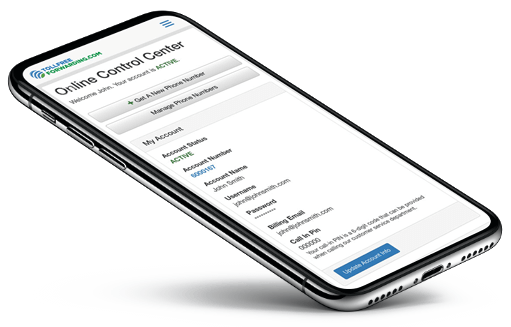 Mexico presents a wide range of opportunities for businesses looking to expand. Not only does it boast the world's 16th largest economy, but Mexico has seen consistent economic growth since the 1990s. Unfortunately, physically expanding to Mexico can prove both difficult and costly. As such, businesses looking to capitalize on Mexico's robust consumer market should consider virtual expansion with a Mexico virtual phone number.
Mexico virtual phone numbers allow you to easily connect with your Mexican customer base without needing to have a physical presence in Mexico. Calls made to your Mexican virtual phone number can be forwarded anywhere in the world. Our Mexico virtual numbers are cloud-based, so all you need is a high-speed internet connection to take advantage of all Mexico has to offer.
Get your phone number now
How to Buy a Mexico Virtual Number Online?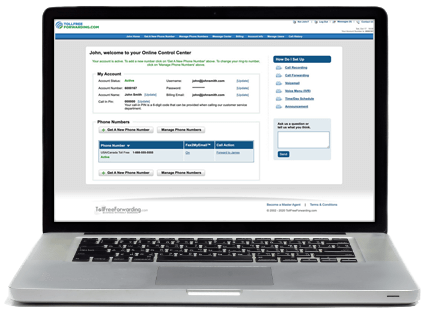 Per Mexican regulations, you need to provide additional business documentation when registering for a virtual number. This includes a business registration with local address, utility bill, or recent government communication. The steps to buy a Mexico number online are as follows:
Choose your desired number type
Provide additional documentation
We take care of registration on your behalf
Start receiving calls
For more information on purchasing a Mexico number online, visit our blog on the subject.
Get your phone number now
Join over 20,000 customers already using TollFreeForwarding
Setup in just one minute. No credit card required. Cancel any time.
Get your phone number now
Mexico Phone Number Information
Phone numbers in Mexico contain ten digits, beginning with a two or three digit area code that is followed by seven or eight digits making up the local number. For international calls, these ten digits will be prefixed by the international country code for Mexico, which is 52. An example Mexico number format is +52 [XX] [XXXX XXXX]
At TollFreeForwarding.com, we're proud to offer an extensive range of virtual local and toll free numbers around the world. See below for some of our popular options:
---
---