Get a
Singapore

Virtual Phone Number
With TollFreeForwarding.com, you can buy a Singapore number and begin receiving calls in under 3 minutes. Forward your calls to home, office, or PBX anywhere in the world, ensuring your customers can always reach you.

Looking for a temporary Singapore phone number? One of our advanced features is you can cancel any time. There is no monthly obligation, and we offer pay as you go options.
Powerful Virtual Phone Features from TollFreeForwarding.com
How It Works - 3 Simple Steps
1
Choose Your Number
Select a local, national or toll-free number from our vast inventory
2
Activate
Let us handle the sign-up - it takes just 3 minutes
3
Receive Calls
Immediately start receiving calls and servicing your customers
GET YOUR PHONE NUMBER NOW
See why over 20,000 customers trust TollFreeForwarding for their virtual phone number needs
Advanced Features of Singapore Virtual Phone Numbers
Scheduled Time of Day Routing
Robust scheduling options allow you to route your calls based on the days and hours of your business. Route your calls to your main call center during business hours and to voicemail during non-business hours.
Real Time Reporting
Instantly view detailed information about calls made to your TollFreeForwarding phone number. Learn about your customers' call habits to help make decisions about outbound sales and follow-up.
Interactive Voice Response (IVR)
Greet your callers with a custom greeting and an intuitive Interactive Voice Response menu. Simply by pressing a number on their keypad, callers can be connected straight through to the correct department or person for their query.
Get your phone number now
Expand Your Reach With a Singapore Phone Number in the Cloud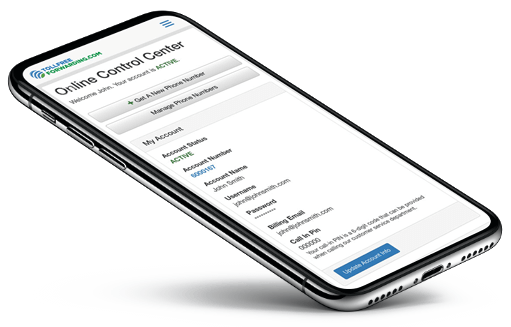 With a virtual Singapore phone number, tapping into your global customer base has never been easier. At TollFreeForwarding.com, our virtual numbers aren't tied to a specific phone line – instead, everything is seamlessly managed internally via the cloud. Not only does this mean no set-up fees or costly on-site equipment, but it allows you to receive calls in any location while accessing and changing your call settings at any time via your intuitive online dashboard.
We understand the quality of your calls is key. That's why we use state-of-the-art Cloud PBX telecommunications technology to cycle through a range of carriers for each incoming call, selecting the best connection for you and your customers. Our service is built on reliability, and with TollFreeForwarding.com you can enjoy clear and crisp call quality every time. Join over 20,000 businesses using us to connect with their customers around the wo
Get your phone number now
A Large Range of Virtual Phone Numbers in Singapore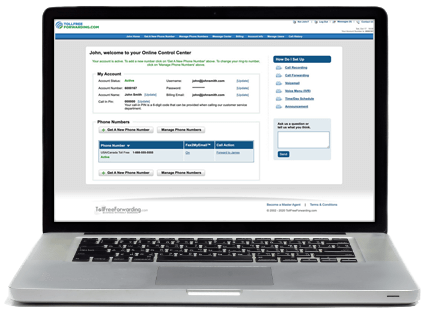 At TollFreeForwarding.com, we offer an expansive inventory of virtual numbers to choose from depending on your business needs. If you're looking for a sense of corporate prestige, choose a national or toll free Singapore phone number. For a familiar, local feel, a number with a recognizable area code will help you target a customer base in a more specific location.
We offer a variety of rates, from Starter through to High Volume, so whether you're just starting out with your first Singapore virtual phone number or you're handling a large volume of calls, we can help you seamlessly manage customer communications. With no long-term commitments or contracts, you can enjoy full flexibility and remain in control of your bottom line. If you're not satisfied with our product, you can cancel at any time without incurring any additional costs. All you need is a three-minute activation and you're ready to go.
Get your phone number now
Frequently Asked Questions
How do I get a phone number in Singapore?

At TollFreeForwarding.com, we make getting a phone number in Singapore quick and easy. You can set everything up online - you don't need any complicated external hardware, and you don't need to wait around for installation. Instead, you just let us know your details, pick your virtual number in Singapore, and we can have everything ready to go in as little as three minutes.

How do I use my Singapore virtual number?

The great thing about our virtual numbers is they require very little maintenance to use; you just let us know where you'd like calls forwarded to, and you'll receive your calls from Singapore directly to that line. If you want to add additional lines or change your forwarding details, you can manage all your settings in your intuitive online control center.

How to call Singapore phone number?

The country dialing code for Singapore is +65. All Singapore phone numbers are eight digits long with no area codes and no trunk codes. +65[XXXXXXXX].
Join over 20,000 customers already using TollFreeForwarding
Setup in just one minute. No credit card required. Cancel any time.
Get your phone number now
Singapore Number Information
Telephone numbers in Singapore all follow the same eight-digit format. As they all belong to one central numbering area, there are no specific area codes or trunk codes. The country calling code for Singapore is +65.
At TollFreeForwarding.com we offer virtual numbers in countries around the world. Explore some of our popular options below:
---
---