Get an
India

Virtual Phone Number
Forward calls with an India phone number with TollFreeForwarding.com. Set-up is free and your number is activated in just 3 minutes.

Our virtual Indian phone numbers span the entire country and allow you to answer calls on any device from your home, office, or PBX to provide an outstanding local service to your customers.
Powerful Virtual Phone Features from TollFreeForwarding.com
How It Works – 3 Simple Steps
1
Choose Your Number
Select a local, national or toll-free number from our vast inventory
2
Activate
Let us handle the sign-up - it takes just 3 minutes
3
Receive Calls
Immediately start receiving calls and servicing your customers
GET YOUR PHONE NUMBER NOW
See why over 20,000 customers trust TollFreeForwarding for their virtual phone number needs
Advanced Features of India Virtual Phone Numbers
Scheduled Forwarding
Robust scheduling options allow you to route your calls based on the days and hours of your business. Route your calls to your main call center during business hours and to voicemail during non-business hours.
Real Time Reporting
Instantly view detailed information about calls made to your TollFreeForwarding phone number. Learn about your customers' call habits to help make decisions about outbound sales and follow-up.
Call Recording
Keep track of your calls by recording all or some of your calls. Recorded calls are stored in call detail records and can be played or downloaded at any time.
GET YOUR PHONE NUMBER NOW
An Indian Phone Number with Clear Quality, Every Time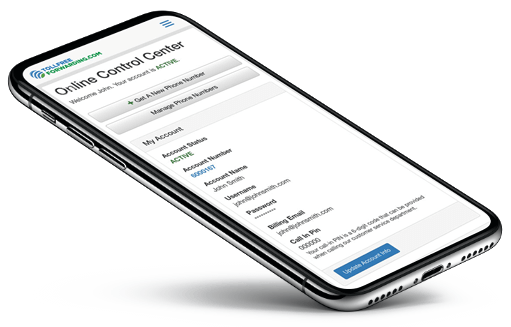 With a virtual phone number in India, you can enjoy international call forwarding to any VOIP-enabled phone line anywhere in the world. We use the latest in telecommunication technology to ensure customer or client calls via your India phone number sound crisp and clear, every time.
Our sophisticated Virtual PBX system works with cloud technology to make call forwarding from India easy. For each inbound call, our multi-carrier network cycles through a range of connections to select the best quality for your call – so calls are so smooth you'll question if they're even being forwarded from India!
GET YOUR PHONE NUMBER NOW
Get a Virtual Number in India with a Simple Pricing Plan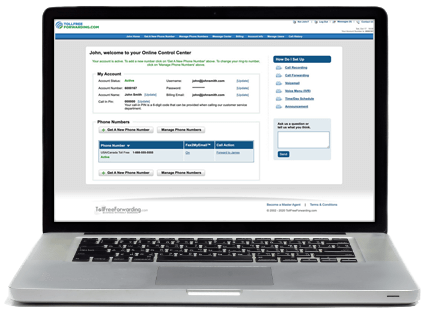 We understand the importance of staying in control of your business finances. That's why all our virtual, local, and toll free numbers in India are available in a range of price packages to suit the needs of your business.
For those trying an Indian phone number for the first time, you can choose a pay-as-you-go forwarding plan, providing a flexible payment option that means you only pay for the minutes you need. For greater value, or if you're expecting a larger volume of calls, choose a virtual number in India with a monthly or annual minutes plan.
GET YOUR PHONE NUMBER NOW
Frequently Asked Questions
Join over 20,000 customers already using TollFreeForwarding
Setup in just one minute. No credit card required. Cancel any time.
GET YOUR PHONE NUMBER NOW
India Phone Number Information
We offer nationwide numbers for India, as well as local numbers in specific Indian cities. If you opt for a local virtual number in India, this is formatted as an eight-digit number, prefixed by an area code, usually made up of two or three digits. The international dialing code for India is +91. Therefore, if you are calling India internationally, the format may look as follows: +91 [XX] XXXX XXXX
As well as virtual phone numbers in India, we offer numbers in cities all across the world. Just click the links below for more information on how we can help you reach your international customers.
---
---