Activate Your
Philadelphia

Phone Numbers for Your Business Today!
Activate your virtual Philadelphia phone number in as little as 3 minutes with TollFreeForwarding.com, and instantly start receiving calls to your home or office anywhere around the world.

Our Philadelphia numbers, with 215, 484 and 267 area codes all available, allow you to establish a trustworthy local presence, all with a cancel any time policy.
Powerful Virtual Phone Features from TollFreeForwarding.com
How It Works - 3 Simple Steps
1
Choose Your Number
Select a local, national or toll-free number from our vast inventory
2
Activate
Let us handle the sign-up - it takes just 3 minutes
3
Receive Calls
Immediately start receiving calls and servicing your customers
GET YOUR PHONE NUMBER NOW
See why over 20,000 customers trust TollFreeForwarding for their virtual phone number needs
Advanced Features of Philadelphia Virtual Phone Numbers
Scheduled Time of Day Routing
Robust scheduling options allow you to route your calls based on the days and hours of your business. Route your calls to your main call center during business hours and to voicemail during non-business hours.
Real Time Reporting
Instantly view detailed information about calls made to your TollFreeForwarding phone number. Learn about your customers' call habits to help make decisions about outbound sales and follow-up.
Interactive Voice Response (IVR)
Greet your callers with a custom greeting and an intuitive Interactive Voice Response menu. Simply by pressing a number on their keypad, callers can be connected straight through to the correct department or person for their query.
Get your phone number now
Kick-Start Your Business with a Philadelphia Number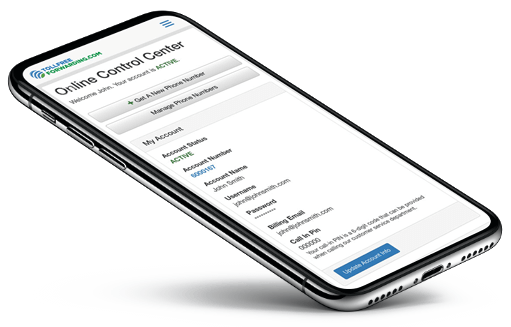 Thinking of setting up in the city of brotherly love? A TollFreeForwarding.com Philadelphia virtual number provides you with a quick and easy way to make a connection without needing a physical presence in the area. With our smart-call forwarding feature, you can route calls from Philadelphia to your office, home phone, mobile, or PBX and connect to new and existing customers in the area. You can even have your voicemails and faxes converted to email for easy access if you are located in a different time zone.
Adding and deleting numbers as you choose is easy as you're not locked into any long-term arrangements. Just choose a 215, 267, or 484 phone number from our online inventory and have it activated in 60 seconds!
Get your phone number now
Create a Virtual Office in Philadelphia and Make Interacting with Customers Easy!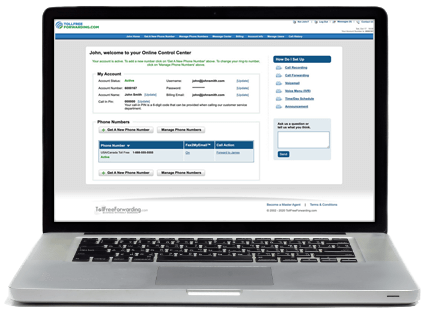 Building a virtual Philadelphia office is the ideal alternative to a brick-and-mortar location. And with a Philadelphia phone number, all your prospective customers can inquire about your business at the cost of a local call.
TollFreeForwarding.com offers local numbers for Philadelphia with 215, 484, and 267 prefixes so everyone in the area will be comfortable reaching out to you. Giving everyone the feeling of you being next door is a great selling point and lets them know you understand the ins and outs of Philly business and are ready to cater to their unique needs.
Get your phone number now
Why Choose a Philadelphia Phone Number?
Philadelphia is one of the most populous metropolitan areas in the United States, and it offers an abundance of opportunities to businesses looking to enter the US market. Philadelphia has a diverse business sector, boasting a range of growing industries and a healthy consumer market ideal for new businesses.
With countless accredited colleges and universities in the Philly area as well as the Philadelphia Stock Exchange, your business will have a huge advantage by providing a Philadelphia virtual number to call. As the center of Pennsylvania's economic activity and the nation's 4th largest consumer media market, this metropolitan is a no-brainer for any company trying to expand across the US. Discover more reasons why you should consider a Philadelphia phone number for your business.
Frequently Asked Questions
How much does a Philadelphia number cost?

We offer a selection of pricing options and plan sizes to ensure there is a solution for every budget! Whether you need a few minutes every month or are looking to use a high volume each year, we have a selection for you. Explore our pricing page to learn more.

Can I add a line to my Philadelphia number?

Yes, adding a line to your Philadelphia virtual number is easy and can be done directly from your online dashboard. You can also edit and remove lines as needed. If you require assistance, our support team is available to help with whatever you may need.

Do Philadelphia numbers come with any extra features?

Yes, our Philadelphia phone numbers come standard with a wide range of features to help enhance your customer service offering. Whether you want to set up an auto attendant to direct calls or are looking to schedule when and where calls are forwarded based on the time of day, we have the solutions for you. Explore our features page to learn more.
Join over 20,000 customers already using TollFreeForwarding
Setup in just one minute. No credit card required. Cancel any time.
Get your phone number now
More local USA Numbers
In addition to our Philadelphia numbers, we offer a range of local US phone numbers. Explore some of our most popular US local numbers here.
---
---