Get a
Ukraine

Virtual Phone Number
Expand and grow your business with Ukraine phone numbers from TollFreeForwarding.com. Set-up is completely free, and we could have you receiving calls in under 3 minutes.

We have national numbers and regional numbers in Ukraine, helping you build trust and loyalty in a new market. Once set up, you will have access to a range of advanced features.
Powerful Virtual Phone Features from TollFreeForwarding.com
How It Works - 3 Simple Steps
1
Choose Your Number
Select a local, national or toll-free number from our vast inventory
2
Activate
Let us handle the sign-up - it takes just 3 minutes
3
Receive Calls
Immediately start receiving calls and servicing your customers
GET YOUR PHONE NUMBER NOW
See why over 20,000 customers trust TollFreeForwarding for their virtual phone number needs
Advanced Features of Ukraine Virtual Phone Numbers
Scheduled Time of Day Routing
Robust scheduling options allow you to route your calls based on the days and hours of your business. Route your calls to your main call center during business hours and to voicemail during non-business hours.
Real Time Reporting
Instantly view detailed information about calls made to your TollFreeForwarding phone number. Learn about your customers' call habits to help make decisions about outbound sales and follow-up.
Interactive Voice Response (IVR)
Greet your callers with a custom greeting and an intuitive Interactive Voice Response menu. Simply by pressing a number on their keypad, callers can be connected straight through to the correct department or person for their query.
Get your phone number now
Ukraine Phone Numbers with Exceptional Call Quality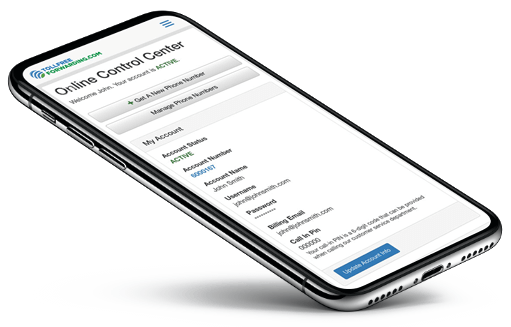 With a Ukraine number from TollFreeForwarding.com, you can expect clear and crisp call quality every time. Our connections are powered by state-of-the-art Cloud PBX telecommunications technology and a multi-carrier system that cycles through a range of carriers to select the highest quality connection for each call.
Your Ukraine phone number also comes with a range of advanced features, such as bespoke forwarding, IVR, voicemail to email, and call recording, to help make communications with your Ukrainian customer base seamless. Our Ukraine virtual numbers make business simple – it's why over 20,000 organizations trust us to connect them with their customers.
Get your phone number now
Ukraine Virtual Numbers with Simple Pricing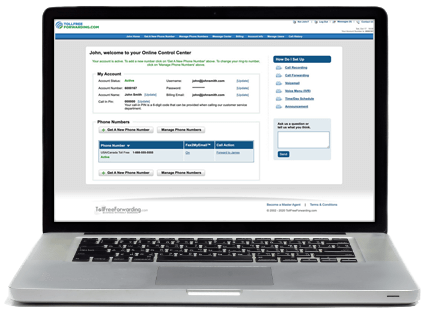 We understand the importance of staying in control of your business bottom line, and our Ukraine numbers allow you to do just that. You can choose a Ukraine phone number on a pay as you go or Starter package, or opt for Large or High Volume packages to easily manage multiple calls and communications across Ukraine.
Our Ukraine virtual numbers come with zero commitment. There is the option for a free trial, and you can cancel at any time. Try a Ukraine phone number with TollFreeForwarding.com today and see how we can help your business grow in Ukraine.
Get your phone number now
Ukraine Virtual Number FAQs
What are the advantages of a Ukraine contact number?

A virtual contact number in Ukraine allows you to establish a presence without the need for a physical office in Ukraine. You can select from a range of Ukraine phone numbers depending on your business needs, from national toll free Ukraine numbers to local, recognizable numbers for specific Ukraine customer bases. This allows you to build trust and ease communications with customers.

As well as building your Ukrainian customer base, our Ukraine virtual numbers come with a range of advantages in terms of features. From bespoke call forwarding and call recording to IVR menus and voicemail to email, our Ukraine phone numbers mean you'll never miss an important call again.

How long does it take to get a virtual number in Ukraine?

When buying a Ukraine phone number with TollFreeForwarding.com, you can start receiving calls in as little as three minutes. As your Ukraine virtual number isn't attached to a specific phone line, no complicated setup or costly equipment is required – everything is managed by the cloud so, once you've given us your details, we can have your new number activated right now.

How to call Ukraine number?

The format of your Ukraine phone number will depend on the option you choose. We offer local numbers in cities across Ukraine, toll free 0800 numbers, and mobile and national numbers beginning with the Ukraine country code, +380. Simply select the type of number you'd like in the drop-down at the top of the page, and you can browse through the number formats available.
Join over 20,000 customers already using TollFreeForwarding
Setup in just one minute. No credit card required. Cancel any time.
Get your phone number now
Ukraine Phone Number Information
National numbers in Ukraine are nine digits long, beginning with a two-digit area code. The country code for Ukraine is +380, so a Ukraine number example would be written as follows: +380 XX XXX XXXX.
At TollFreeForwarding.com, we're proud to offer a vast array of virtual phone numbers in countries around the world. Use the navigation at the top of the page to browse through all your options or visit some of our popular locations below.
---
---