Get a
Puerto Rico

Virtual Phone Number
Our Puerto Rico virtual phone numbers come with no set-up fee, and we can have you up and running in under 3 minutes. Incoming calls can be forwarded to home, office, or PBX anywhere in the world, so you never have to miss a call.

Buying a phone number in Puerto Rico is the best way to build trust and loyalty in a new market. We have pay as you go options available, so you can cancel at any time.
Powerful Virtual Phone Features from TollFreeForwarding.com
How It Works - 3 Simple Steps
1
Choose Your Number
Select a local, national or toll-free number from our vast inventory
2
Activate
Let us handle the sign-up - it takes just 3 minutes
3
Receive Calls
Immediately start receiving calls and servicing your customers
GET YOUR PHONE NUMBER NOW
See why over 20,000 customers trust TollFreeForwarding for their virtual phone number needs
Advanced Features of Puerto Rico Virtual Phone Numbers
Scheduled Time of Day Routing
Robust scheduling options allow you to route your calls based on the days and hours of your business. Route your calls to your main call center during business hours and to voicemail during non-business hours.
Real Time Reporting
Instantly view detailed information about calls made to your TollFreeForwarding phone number. Learn about your customers' call habits to help make decisions about outbound sales and follow-up.
Interactive Voice Response (IVR)
Greet your callers with a custom greeting and an intuitive Interactive Voice Response menu. Simply by pressing a number on their keypad, callers can be connected straight through to the correct department or person for their query.
Get your phone number now
Expand into Puerto Rico and the Caribbean with a Puerto Rico Phone Number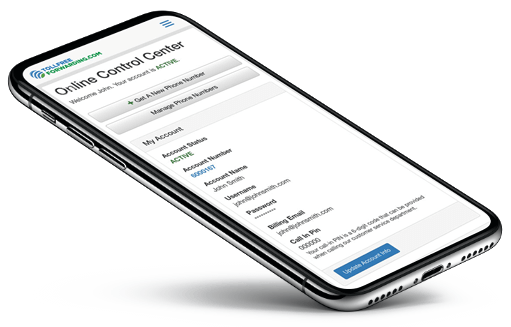 As a popular tourist destination and an evolving economy,
Puerto Rico
offers a rich diversity of opportunities to business owners seeking to expand on an international scale. A Puerto Rico phone number will help businesses find success in a competitive market through building a trusting relationship with loyal customers. Thanks to its bilingual population and foreign investment tax incentives, Puerto Rico is amongst the most entrepreneur-friendly of the Caribbean destinations. Having a number with a Puerto Rico phone code will make it easy for locals to reach your business, without having to use an international dialling code or incurring any additional costs.
Get your phone number now
Activate Puerto Rico Virtual Numbers for Free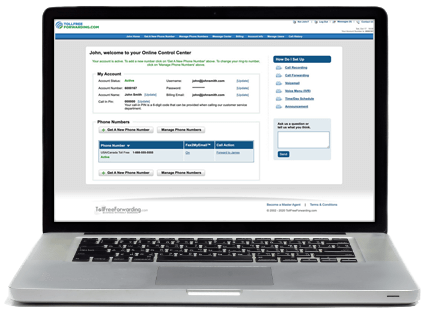 To activate your first Puerto Rico phone number for free today, just get started with the
TollFreeForwarding risk-free 30-day trial
. The trial is 100% free, so you won't be charged any activation or cancellation fees, and there's no equipment installation necessary. Every TollFreeForwarding virtual number package includes free Hosted PBX phone service, so once your new Puerto Rico phone numbers are up and running, you'll be able to manage your increased incoming phone traffic easily and efficiently. Once the free trial for your Puerto Rico number is up, you can choose to continue service with any one of
TollFreeForwarding's affordable business calling packages
.
Get your phone number now
Frequently Asked Questions
How do I get a Puerto Rico phone number?

We have 30 different Puerto Rico numbers available, each with local San Juan area codes. You can have yours set up within 3 minutes, and start building trust with a new customer group.

How to call Puerto Rico number?

The Puerto Rico dialing code is +1 followed by the 3-digit area code and 7-digit subscriber number.
Join over 20,000 customers already using TollFreeForwarding
Setup in just one minute. No credit card required. Cancel any time.
Get your phone number now
Puerto Rico Phone Number Information
If you want to call Puerto Rico from the US, you won't need to dial the exit code. This is because Puerto Rico is part of the North American Numbering Plan (NANP). Just dial the country code and the area codes within the NANP.
You can find other virtual phone numbers in the Caribbean and Latin America with TollFreeForwarding.com.
---
---