Get a
Philippines

Virtual Phone Number
Our Philippines phone numbers come with a range of advanced features that will support your expansion. We could have you set up and receiving calls in less than 3 minutes.

Once your Philippines number is activated, you are under no monthly obligation. We have a cancel any time policy and pay-as-you-go packages that ensure you only pay for what you use.
Powerful Virtual Phone Features from TollFreeForwarding.com
How It Works – 3 Simple Steps
1
Choose Your Number
Select a local, national or toll-free number from our vast inventory
2
Activate
Let us handle the sign-up - it takes just 3 minutes
3
Receive Calls
Immediately start receiving calls and servicing your customers
GET YOUR PHONE NUMBER NOW
See why over 20,000 customers trust TollFreeForwarding for their virtual phone number needs
Advanced Features of Philippines Virtual Phone Numbers
Scheduled Forwarding
Robust scheduling options allow you to route your calls based on the days and hours of your business. Route your calls to your main call center during business hours and to voicemail during non-business hours.
Real Time Reporting
Instantly view detailed information about calls made to your TollFreeForwarding phone number. Learn about your customers' call habits to help make decisions about outbound sales and follow-up.
Call Recording
Keep track of your calls by recording all or some of your calls. Recorded calls are stored in call detail records and can be played or downloaded at any time.
GET YOUR PHONE NUMBER NOW
Virtual Philippines Phone Numbers in the Cloud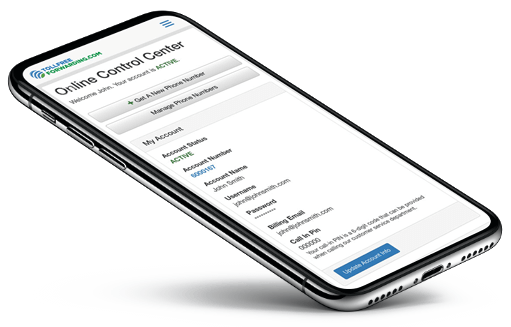 A Phillipines phone number makes it easier than ever to connect with customers around the world. Using advanced Cloud PBX telecommunication technology, you can expect high-quality call quality every time. We choose from multiple carriers to ensure exceptional connectivity, no matter where you are.
Launching a Philippines number in the cloud means everything is hosted and handled remotely by internet or PSTN, giving you flexibility and easy access to your number from any given location, without the need for complicated on-site hardware.
GET YOUR PHONE NUMBER NOW
Extensive Collection of Philippines Virtual Numbers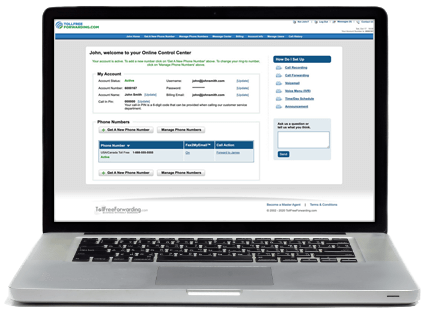 At TollFreeForwarding.com, we offer an exceptional online inventory of virtual phone numbers spanning over 120 counties, with a range of options for a virtual phone number in the Philippines. You can choose a mobile-enabled virtual cell phone number in the Philippines. With SMS capabilities, connecting to your customers has never been easier!
For business throughout the Philippines, a toll free or national number allows calls to be re-routed to any location across the world. Alternatively, a local Philippines number can help build a community-based feel, making you more accessible to local customers and enhancing familiarity.
GET YOUR PHONE NUMBER NOW
Frequently Asked Questions
How do I get a phone number in the Philippines?

You can get a phone number in the Philippines with TollFreeForwarding.com. We offer a vast inventory of virtual numbers around the world, including in the Philippines. Everything can be set up online, and you don't need any complicated hardware or installation to get started. Just let us know your details and we'll do the rest!

How long does it take to get a virtual number in the Philippines?

As everything is set up in the cloud, we could have your new virtual number in the Philippines up and running in as little as three minutes.
Join over 20,000 customers already using TollFreeForwarding
Setup in just one minute. No credit card required. Cancel any time.
GET YOUR PHONE NUMBER NOW
Philippine Number Information
Local telephone numbers in the Philippines comprise of an area code between one and three digits, and a fixed number. This number is eight digits long for area code 02, and seven digits long for area codes 03X to 09X. The country calling code for the Philippines is +63. Therefore, a sample telephone number in the Philippines is +63 02 XXXX XXXX.
At TollFreeForwarding.com, we're proud to offer an inventory of virtual numbers all around the world. You can see some of our popular options below:
---
---