Get a
Grenada

Virtual Phone Number
Buy a Grenada virtual phone number today, and you could be receiving calls in just 3 minutes. The set-up is completely free, and once activated, you will have access to a 24/7 dedicated support team should you need any additional help.

Our Grenada phone numbers come with advanced features like global call forwarding. With global call forwarding, you'll never have to miss a call again. All your phone calls from Grenada can be forwarded directly to your home, office, or PBX.
Powerful Virtual Phone Features from TollFreeForwarding.com
How It Works - 3 Simple Steps
1
Choose Your Number
Select a local, national or toll-free number from our vast inventory
2
Activate
Let us handle the sign-up - it takes just 3 minutes
3
Receive Calls
Immediately start receiving calls and servicing your customers
GET YOUR PHONE NUMBER NOW
See why over 20,000 customers trust TollFreeForwarding for their virtual phone number needs
Advanced Features of Grenada Virtual Phone Numbers
Scheduled Time of Day Routing
Robust scheduling options allow you to route your calls based on the days and hours of your business. Route your calls to your main call center during business hours and to voicemail during non-business hours.
Real Time Reporting
Instantly view detailed information about calls made to your TollFreeForwarding phone number. Learn about your customers' call habits to help make decisions about outbound sales and follow-up.
Interactive Voice Response (IVR)
Greet your callers with a custom greeting and an intuitive Interactive Voice Response menu. Simply by pressing a number on their keypad, callers can be connected straight through to the correct department or person for their query.
Get your phone number now
Improve your Bottom Line with Grenada Virtual Phone Numbers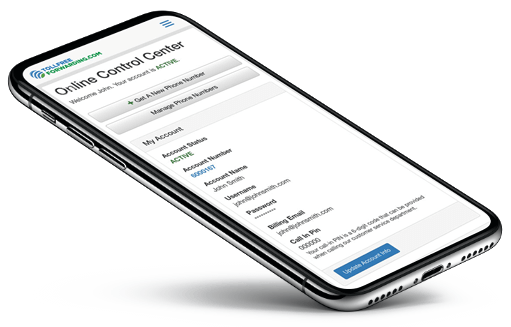 Known as the "Spice Island," Grenada suffered political and military troubles in the 1980s, but is now a tourist haven and major exporter of some of the most sought-after spices in the world. Grenada is on the rise — and you can get in on the action with Grenada phone numbers, which can plug your business into the Caribbean economy without any need for you to establish a physical presence there. With a Grenada area code, any calls you receive from the island will be forwarded to your business back home using powerful features that ensure every call lands in the right place. You don't need offices and a call center, setting up a Grenada phone number is as good as having your business set up a branch on the island itself.
Get your phone number now
Gain Entry into Grenada with International Phone Numbers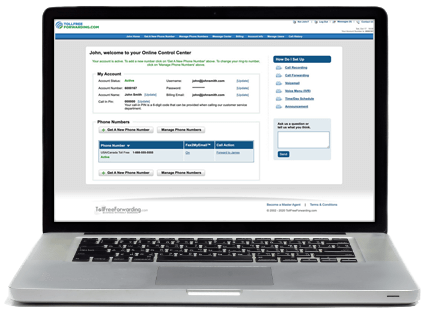 Grenada is a country that many businesses use as a proving ground. It is common for companies to use Grenada's proximity to South America as a test market before branching out into the larger South American markets. This seemingly monumental task is made possible with an international phone number from TollFreeForwarding.com. With Grenada phone numbers with different area codes, you can test a market without entering the country. Virtual numbers aren't associated with a specific phone line, but instead route incoming calls to any line or number of lines that the business chooses. This routing service can be managed down to the smallest specifics.
Get your phone number now
Never Pay Extra for Complete Flexibility and Enterprise-Level Options
With TollFreeForwarding.com, there is never a commitment or contract, and you can cancel the service at any time. Each account comes with a free trial. All you have to do is choose a number, activate your account and get started. After the trial is over, it's up to you whether to keep the same number or start over with a new one. There are no setup fees, activation fees or a long, aggravating process for getting started. Simply look through our massive inventory for a number you like, activate the account and you'll be ready to start receiving calls from your new customers in as little as three minutes.
Frequently Asked Questions
How do I get Grenada phone numbers?

We offer four types of Grenada phone numbers, each with a unique regional area code. You can get set up in 3 minutes with TollFreeForwarding.com.

How do I use my Grenada phone numbers?

The great thing about a virtual phone number is it requires very minimal effort to use – once you've set up your number, everything is handled for you in the cloud and incoming calls can be rerouted to wherever you choose. Your customers can call you using your Grenada phone numbers and reach you wherever you are – with no complicated rerouting or international dialing codes. Your TollFreeForwarding.com virtual Grenada phone number also comes with several additional features that you can manage via your intuitive online dashboard. This gives you advanced call management options such as call routing based on business hours, personalized greetings, and touch-tone menus specific to your business. You can also view real-time call data, record calls, and receive voicemails through email.

How to call Grenada number?

If you want to call Grenada from the United States, you should dial the following: 1 - 473 - Land Phone Number 011 - 1 - 10 Digit Mobile Number.
Join over 20,000 customers already using TollFreeForwarding
Setup in just one minute. No credit card required. Cancel any time.
Get your phone number now
Grenada Phone Number Information
If you want to call Grenada from the United States, you should dial the following: 1 - 473 - Land Phone Number 011 - 1 - 10 Digit Mobile Number.
In addition to our Grenada numbers, we offer a range of virtual numbers throughout Latin America. Find more virtual phone numbers below.