Get an
Algeria

Virtual Phone Number
With TollFreeForwarding.com, your new virtual number in Algeria can be up and running in as little as 3 minutes. You don't need any complicated equipment, and our cloud-based system means you can easily forward calls to any location worldwide.

Our virtual Algerian numbers come packed with advanced features, including bespoke call forwarding and voicemail to email options – so you'll never miss an important call again.
Powerful Virtual Phone Features from TollFreeForwarding.com
How It Works - 3 Simple Steps
1
Choose Your Number
Select a local, national or toll-free number from our vast inventory
2
Activate
Let us handle the sign-up - it takes just 3 minutes
3
Receive Calls
Immediately start receiving calls and servicing your customers
GET YOUR PHONE NUMBER NOW
See why over 20,000 customers trust TollFreeForwarding for their virtual phone number needs
Advanced Features of Algeria Virtual Phone Numbers
Scheduled Time of Day Routing
Robust scheduling options allow you to route your calls based on the days and hours of your business. Route your calls to your main call center during business hours and to voicemail during non-business hours.
Real Time Reporting
Instantly view detailed information about calls made to your TollFreeForwarding phone number. Learn about your customers' call habits to help make decisions about outbound sales and follow-up.
Interactive Voice Response (IVR)
Greet your callers with a custom greeting and an intuitive Interactive Voice Response menu. Simply by pressing a number on their keypad, callers can be connected straight through to the correct department or person for their query.
Get your phone number now
Choose An Algerian Number in the Cloud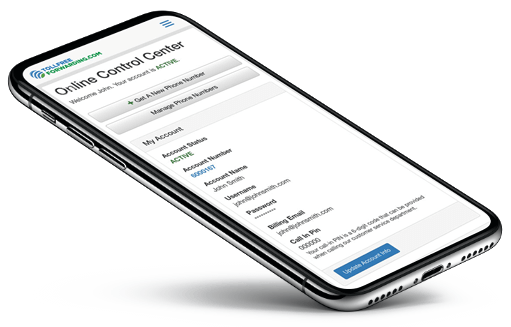 An Algeria number from TollFreeForwarding.com allows you to reach your Algerian customer base from any location in the world. Our virtual Algeria numbers aren't associated with any specific phone line, but instead, use the cloud to forward your incoming calls to any number of your choosing.
A virtual Algeria number means you can accept incoming business calls to your office, home, or on your cell phone, never missing an important call again. Plus, everything is handled online via your intuitive dashboard, allowing you to manage, track and report on your call data in real-time.
Get your phone number now
Phone Numbers in Algeria with Flexible Packages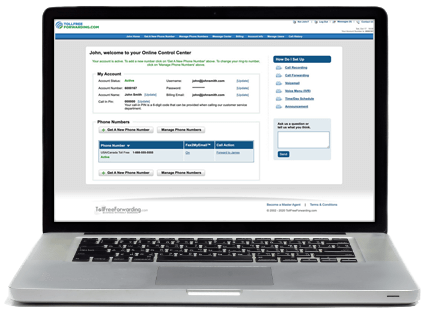 If you're looking for a virtual Algeria phone number, you can select from a range of packages and rates to suit your needs and budget. If you're setting up your very first Algerian phone number, our Starter packages are ideal. If you've found your business in Algeria is growing and communications have increased, you can quickly and easily upgrade to our Large or High Volume packages, which seamlessly manage a higher number of calls at a better rate for you.
All of our Algeria numbers are available with a free trial that you can cancel anytime, so expanding your business has never been easier. Try it today and see how we can help you grow.
Get your phone number now
Algeria Phone Number FAQs
How do I get an Algerian phone number?

You can get a number in Algeria right here at TollFreeFreeForwarding.com. It's incredibly quick and easy and, as everything is handled in the cloud, can be done right here online. You can visit our pricing page for more information on the packages we offer, or use the drop-down at the top of this page to get started setting up your Algeria number.

Of course, if you prefer, you can call our expert customer support team who will be more than happy to discuss your options.

What are the benefits of a virtual number in Algeria?

There are a number of benefits to an Algerian number. Most importantly, it allows you to establish a presence in Algeria, even if you don't have an office there. This means your customers in Algeria can easily reach you on a local number that's recognizable to them, and that call can be seamlessly forwarded to your existing landline, mobile, call center, or office.

A virtual number with TollFreeForwarding.com also comes with a range of advanced features and benefits, including bespoke call forwarding, voicemail to email, IVR menus, real-time reporting, and call recording.

How to call Algeria phone number?

Algeria phone numbers begin with the country code +213 followed by a nine-digit local number. Algeria phone numbers are expressed +213 [XX XXX XX XX].
Join over 20,000 customers already using TollFreeForwarding
Setup in just one minute. No credit card required. Cancel any time.
Get your phone number now
Algeria Number Information
We offer Algeria national numbers. These are 9-digit phone lines for businesses. They're not associated with any particular area code and can be called from anywhere in Algeria. Our Algeria numbers are prefaced with the country code +213. A number format example in Algeria is +213 XX XXX XX XX.
At TollFreeForwarding.com, we're proud of the extensive range of virtual phone numbers we offer. Use the site navigation to explore our full country list, or visit some of our popular options below.
---
---