Digital communication solutions are rapidly advancing, and businesses of all sizes are leaving their legacy systems behind in favor of these more flexible, cost-effective options. One such solution is the virtual phone number. Virtual phone numbers don't require complex hardware and are accessible over the internet, making them ideal for businesses looking to connect their remote employees or expand into new territories without taking on the costs of establishing a physical location.  
While virtual phone numbers are becoming increasingly popular alternatives to traditional analog numbers, many people still have questions about them. What is a virtual phone number? How do virtual phone numbers work? What are the benefits of a virtual phone number? 
In this article, we'll break down everything you need to know about virtual phone numbers, from what they are and how they work to how you can use them to connect with customers all around the world for a fraction of the cost of legacy systems.  
What is a Virtual Phone Number?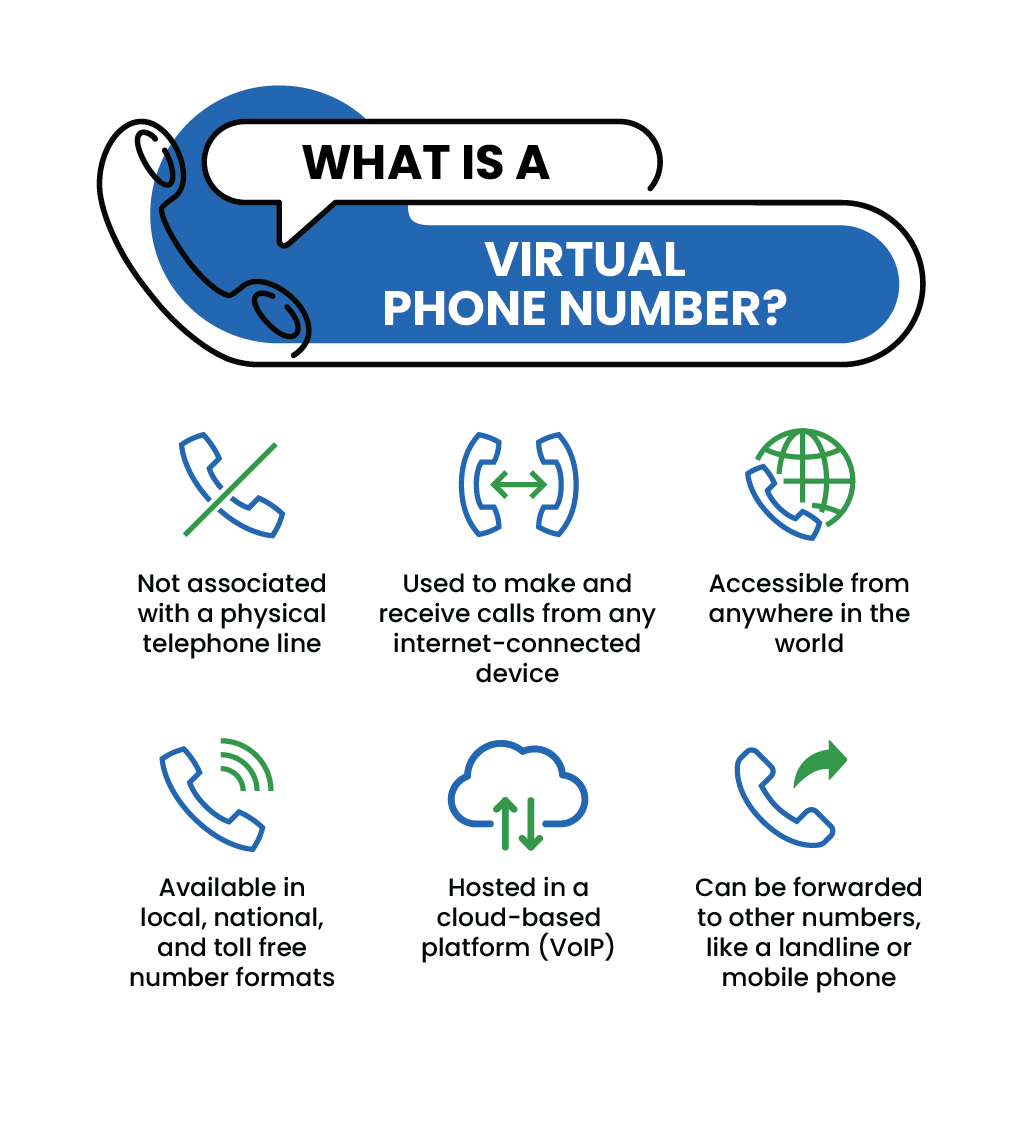 A virtual phone number provides you with the ability to place and receive calls from all over the world using just a broadband internet connection rather than a traditional analog phone line. Therefore, virtual phone numbers are ideal for companies looking to connect with their global customer base or expand into a new territory without the associated costs of physically expanding.  
Virtual phone numbers unlock the world with the ability to create any number, anywhere, all over the internet. Use virtual phone numbers to localize your business with unique area and country codes, no matter where you are headquartered. 
Virtual phone numbers are also beneficial to businesses with many remote employees or no central office, as calls to virtual phone numbers can be forwarded to any number of devices, no matter where they are located, connecting different entities through a singular system.  
How do Virtual Phone Numbers Work?
Virtual phone numbers can be used to place and receive calls, however, that doesn't mean they are the same as traditional analog phone lines. Virtual numbers exist in the cloud and are linked to a preexisting phone number or other internet-connected devices. When the virtual number is dialed, the call is forwarded to your existing landline, mobile phone number, or other devices. This makes virtual numbers much more flexible, allowing users to place and answer calls anywhere they have access to the internet.  
What is Voice Over Internet Protocol (VoIP)?
Voice over Internet Protocol, or VoIP, service providers manage and provide access to virtual phone numbers for users. VoIP service providers host the virtual numbers in the cloud and connect calls to and from the virtual numbers to the device of the user's choice. Therefore, users gain the maneuverability to redirect calls to different devices depending on their needs. 
Another benefit of utilizing a VoIP service provider is that they can host multiple virtual numbers for a single user. For example, let's say a business has international customers in multiple different countries around the world. They can have virtual numbers local to each of those countries all forwarded to a single device where the central business is located.  
What are the Benefits of a Virtual Phone Number?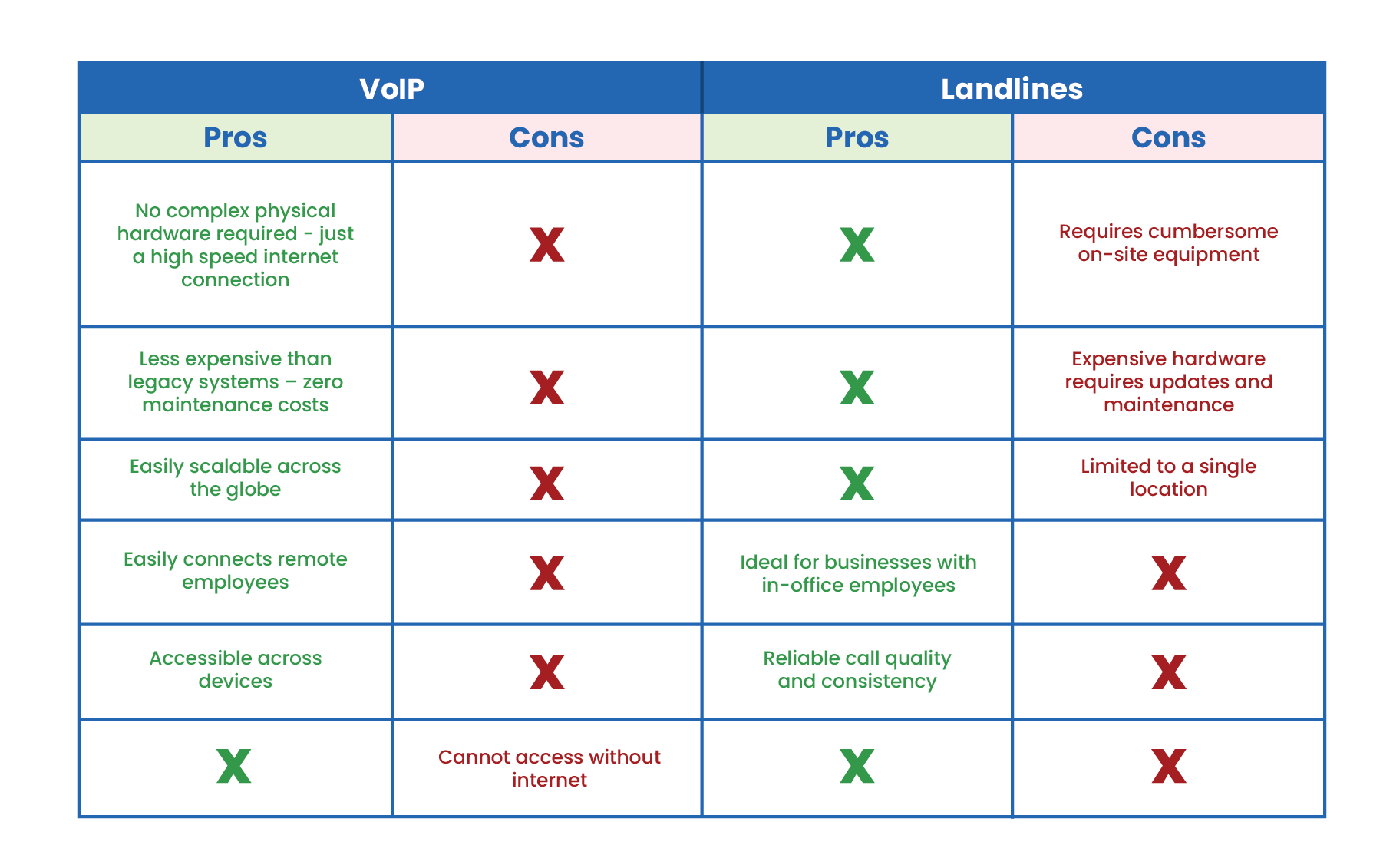 From flexibility to scalability, a virtual phone number comes with a range of benefits ideal for businesses of all sizes. Some advantages of a virtual phone number include: 
Multiple Device Synchronization
One of the major benefits of a virtual phone number is that it allows people to remain connected to their number via multiple devices. That way, they never need to worry about missing a call whether they are at the office, their home, or on the go. This is particularly beneficial for businesses with hybrid working models for their employees or employees who travel often for their job.  
Affordability & Scalability
Another integral benefit to virtual phone numbers is that they provide cost-friendly alternatives to complex analog phone systems. Furthermore, they provide businesses with the ability to scale with a low cost of entry. As such, should a business be expanding to a new territory, they don't need to build out a physical location with a local phone system in order to connect with their customers in that territory. This can be particularly enticing to businesses with a few centrally located employees but a wide customer base.  
Maintain Privacy
Since virtual phone numbers can be connected to existing numbers, they provide users with a layer of privacy. For example, rather than give out their personal mobile phone number, a user can instead provide their customers with a virtual phone number linked to their cell phones. This allows them to keep their private cell number private while remaining connected via the virtual number.  
Furthermore, many virtual phone number providers offer scheduled forwarding, so that incoming calls are forwarded to certain devices at certain times of the day. As such, incoming calls can be sent to a user's mobile number during working hours and a voicemailbox after working hours, allowing the user to disconnect their mobile device when desired.  
Advanced Feature Integration
Many virtual number providers offer additional features that can be enabled either for free or at an additional charge. As mentioned, scheduled forwarding allows a user to forward calls to various devices depending on the time of day. Additional features may also include auto attendants, call recording, and voicemail to email services.  
How Many Numbers Are in a Virtual Number?
Virtual phone numbers can be local, national, or international numbers from practically any country, state, or territory in the world. Therefore, the amount of digits in a virtual phone number depends on the number type and location.   
For example, if you were to use a local virtual U.S. phone number, it would consist of 10 digits, including the 3-digit area code and 7-digit phone number. However, toll free numbers in the U.S. begin with 1 (800) + a 7-digit phone number.  
Since every country has its own country and area codes, as well as unique number sequences, virtual numbers allow local customers to dial a number format they are familiar with rather than trying to understand unfamiliar codes and sequences from a different country. 
Here is a selection of number formats for common virtual numbers: 
US: +1 (xxx) xxx-xxxx  
UK: +44 (xx) xxx-xxx 
China: +86 (1xx) xxxx-xxxx 
Mexico: +52 (xx) xxxx-xxxx 
How to Get a Virtual Phone Number?
TollFreeForwarding.com has a selection of local, national, and international numbers around the globe. Explore our inventory of virtual phone numbers  here.  
Getting started with a virtual phone number is as easy as selecting a plan and deciding if you want a local, national, or international number. Then a member of our dedicated support team will assist you in setting up your number. Since virtual phone numbers work over the internet, there's no complicated external hardware that needs to be set up on your end. You can begin to field calls to your virtual number in just a few minutes.  
Adding, editing, or removing a line can be done quickly, right from your online dashboard with our cloud-based system. Our support team is available to help 24 hours a day, seven days a week, if you require assistance.  
Reach Your International Customers Today!
If your business is looking to expand throughout the country or around the globe, a virtual phone number can help you reach your customers on a local level. Get started with a virtual phone number from TollFreeForwarding.com today and reap the many benefits they can provide for your business.