The current pandemic has turned everyday life upside down. With many of us confined to our homes for a lockdown or shelter in place order, working from home has become the new normal.
Businesses are staying connected by using video conferencing and virtual numbers to keep communication high, but for many, it remains a worrying and uncertain time. In light of the new normal, we wanted to find out how the current crisis has affected the mental health of the American workplace.
In 2019, we conducted a survey to investigate the prevalence of common symptoms of burnout in the office. In 2020, we reran the survey.
Burnout in the Workplace 
Last year we asked 2,000 US employees about their experiences with burnout, and its main symptoms, in the workplace. Here are some key statistics:
Over a third (36%) of US employees experience burnout in the office every week, while 56% experience it monthly
Over half (56%) said they suffer from stress at work every week. Other key burnout symptoms such as frustration (52%), fatigue (52%), exhaustion (44%), and anxiety (40%) also occur every week for many working Americans
Key workplace markers are negatively affected by burnout. 37% of workers said their career motivation is damaged, 36% their productivity, and 29% their quality of work
37% of workers said their workplace offers no support for burnout at all
The Impact of the Health Crisis
We re-ran the survey to find out how the health crisis has affected American workers. The data shows that many of the key symptoms of burnout have worsened due to the health crisis and society lockdowns.
At least half of US workers said anxiety (53%), stress (51%), and frustration (50%) had all increased at work due to the ongoing health crisis. Other important symptoms linked to burnout have worsened too, with more than two in five workers saying that of depression (44%), fatigue (42%), and exhaustion (41%).
The uncertainty of the current health crisis extends well beyond the here and now. Nearly half of the US workforce (47%) are worried about how lockdown and the COVID-19 crisis will affect their long-term mental health. To make matters worse, many workers feel they have no option but to soldier on; 30% of employees say that they feel pressure from management not to take time off.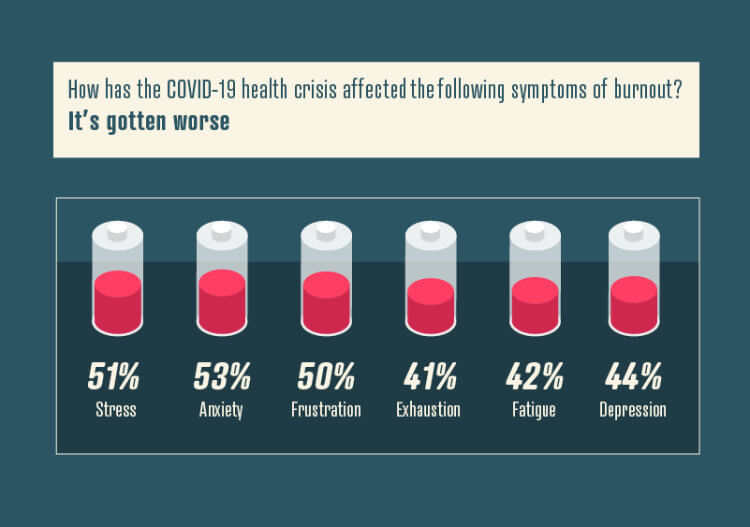 Women are Being More Heavily Affected
Broken down by gender, the data suggests that women are experiencing a tougher time than men during the crisis. Asked the same questions on how key burnout symptoms had changed during the ongoing health crisis, women were at least 5% higher across a range of key markers: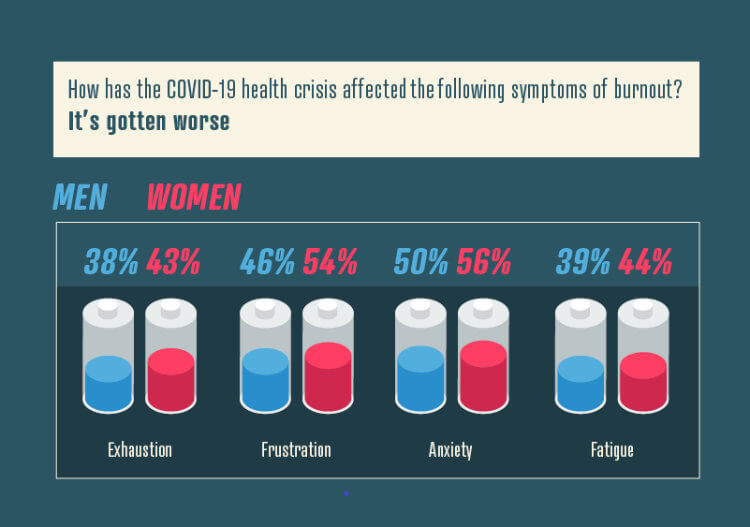 Employees Want More Support
For business owners, there are serious implications of increased mental health concerns in the workforce. A happy employee is one that is more able to produce their best work. Our follow-up survey showed how damaging the crisis is for people's ability to work at their highest level.
Well over a third of respondents said their work/life balance (35%), productivity (37%), job satisfaction (38%), and career motivation (39%) had all gotten worse due to the health crisis and society lockdowns. Sleep, one of the most important commodities for improving focus and productivity at work, has gotten worse for 44% of employees in the US.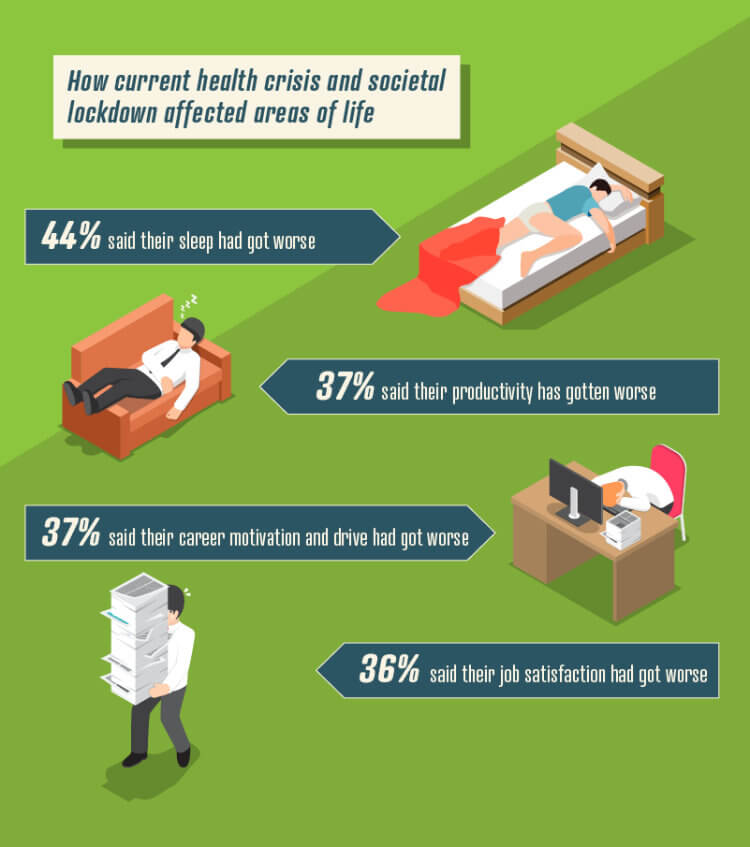 In a time when business finances are tighter than ever, retaining staff is of crucial importance to avoid costly recruiting fees or a drop in company output.
To ensure you can retain your best staff, workers are demanding organizations make greater strides to support them during this difficult time. 42% want their organization to craft a culture that supports a healthy work/life balance, while 32% want an increase in the level of communication and dedicated mental health support.
Whatever efforts are being made, the workforce doesn't consider them to be sufficient. 37% of people don't think their organization is doing enough to support them through the crisis.
Key Workers are Hit Hardest  
While many of us have been able to take advantage of modern communication and productivity tools to continue working from home, many key workers have not been as fortunate. For those in sectors such as healthcare, retail, and transport, their roles have involved putting themselves in danger.
It's led to a deeper level of appreciation among society for these types of roles, but it's also led to deeper levels of burnout. When looking at the number of these workers who said key burnout symptoms had got worse, they all exceeded rival industries and the national average.
Despite the fine work these key employees are doing, the number that feels their organization isn't doing enough to support them is also higher than the national average. 48% of healthcare workers agreed this is the case, followed by transport (44%) and retail (41%). Each of them is well above the national average of 37%.
Helping Employees During the Health Crisis
For businesses that have moved to a largely remote working environment, the focus on boosting employee wellbeing has never been more relevant. We've noted how important amending your company culture and increasing communication is to employees, but what else can you do?
We asked experts in HR and business for their top tips and tactics on helping employees during the ongoing health crisis.
Peter Bryla, Community Manager at ResumeLab, said that among a raft of new company initiatives, they are focusing on mental health and engagement:
"Firstly, we've expanded mental health care benefits to make them even more accessible and affordable to all of our workers. In a similar vein, we've hired a dedicated work performance coach (with a strong background in psychotherapy).
"Secondly, we've started a weekly newsletter with useful tips that tackle remote work, fitness, work/life balance, and ways to destress and manage anxiety."
ResumeLab is one example of many organizations that are plugging the comms and mental health support gap that 32% of the workforce said they wanted. Dana Case, the Director of Operations at MyCorporation.com, takes the idea of over-communicating even further:
"In March, we provided each employee with our personal cell phone number as we started working remotely. In the event of an emergency, whether it is health or tech-related or they'd like to catch up and chat together, we encourage them to reach out and let us know as soon as possible so we may develop a resolution together."
Improving communications is clearly important, but financial aid can also be welcome for companies that can afford it. Marketing Consultant Bruce Harpham makes the case for reimbursing remote working expenses:
"Working remotely for weeks and months at a time is something new. To make this process easier, I have purchased a few home office things – a headset for my phone, a fan, and a new webcam. Offering reimbursement for home office expenses is one way to ease the stress.
"It is difficult to focus and be productive when your improvised home office is not properly equipped."
The health crisis has brought a set of unprecedented challenges to business owners and managers. Understandably, the strain has increased on individual employees as they process the shift in workplace practices. With some additional focus on wellbeing and communication, you can help your workforce battle through the current health crisis and enjoy some of the benefits of our new way of working.