Are you thinking about launching a new business? Maybe you're considering moving your small business to a new location? If so, our new-business index highlights the most promising cities across the US for business growth and success.
The pandemic has caused a shift in business, with owners and employees alike moving away from big, expensive cities like LA and NY for better opportunities and a higher quality of life elsewhere. From lower office costs and easier commuting to job growth and new business survival rates, there are excellent opportunities in cities across the US that you may not have ever considered. Plus, technology including video calling and US virtual phone numbers make it easier than ever for businesses to launch in new locations.
If you're considering making a move for business, here are the top US cities to pay attention to.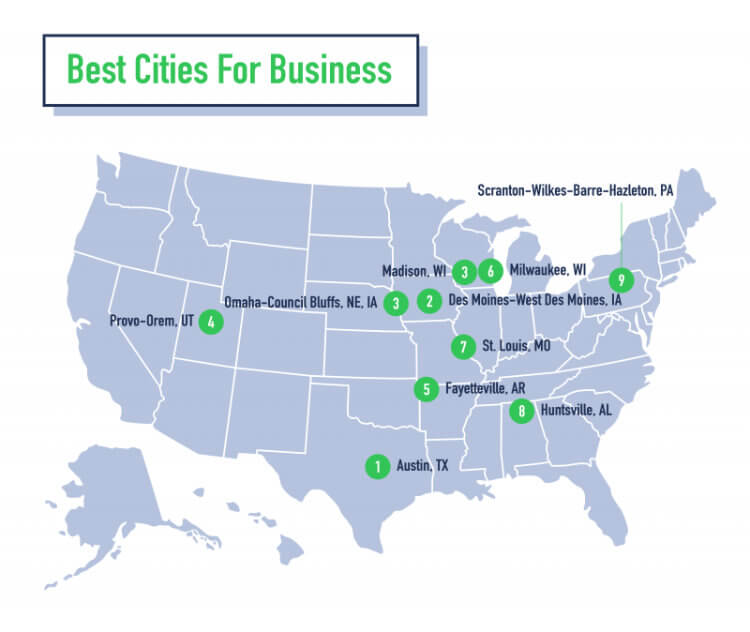 Austin, TX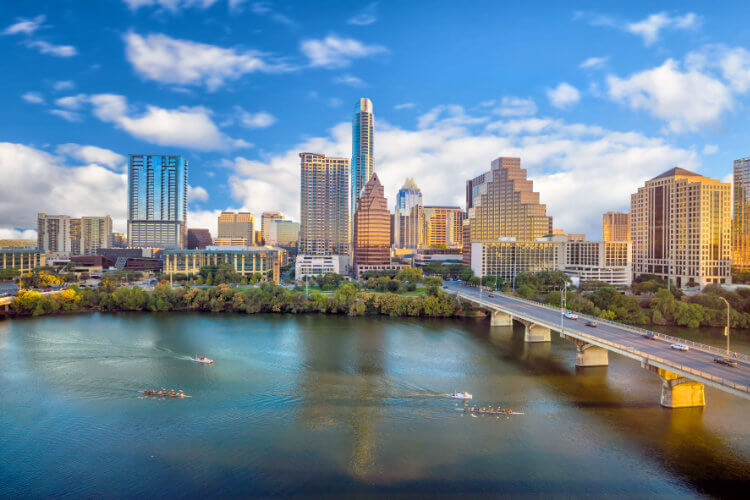 Coming in at the top of the list is Austin, Texas. A firm favorite for tech businesses, Austin appeared in the most metrics of all the cities, with high scores for job growth, college grads, new business survival and city growth.
The city is growing at a rate of 2.39%, highlighting a great potential for future businesses, while job growth has also increased by 1.8% since 2019, showing the pandemic has had little effect on jobs in this fast-growing city.
Austin scored 9th in the US for new business survival rates, so starting a business here gives you a great chance of success. If you're just starting out and are looking for a qualified workforce, Austin can offer that, too – 46.2% of the population here have a bachelor's degree or higher. Combined, these metrics make it clear why so many businesses are choosing to lay down roots in Texas.
Des Moines, IA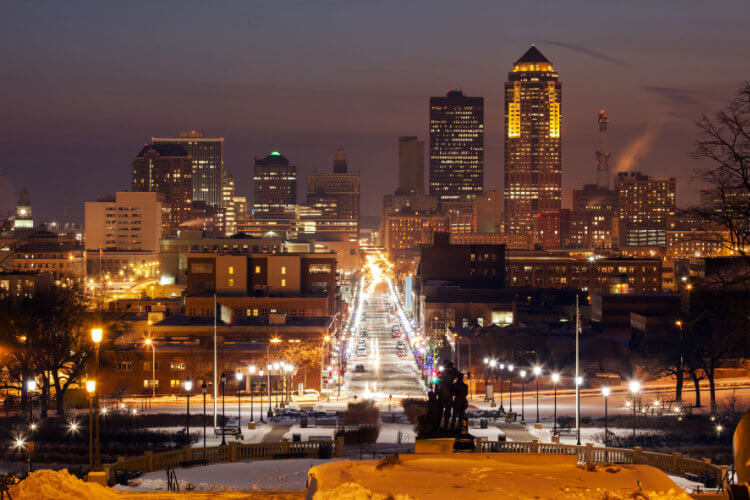 Coming in second is Des Moines, the capital city of Iowa. The city scored within the top three of all cities for commuting times, with an average of 20.3 minutes, meaning getting around for work is simple. There are strong new business survival rates, while cost of living is also low – workers in Des Moines only use 19.71% of their income on living costs.
Combined, this makes Des Moines a great place for both businesses and employees alike. New businesses thrive here, and low cost of living and easy commuting mean staff are likely to be happy at work, minimizing staff turnover and helping businesses in Des Moines develop strong workforces.
Madison, WI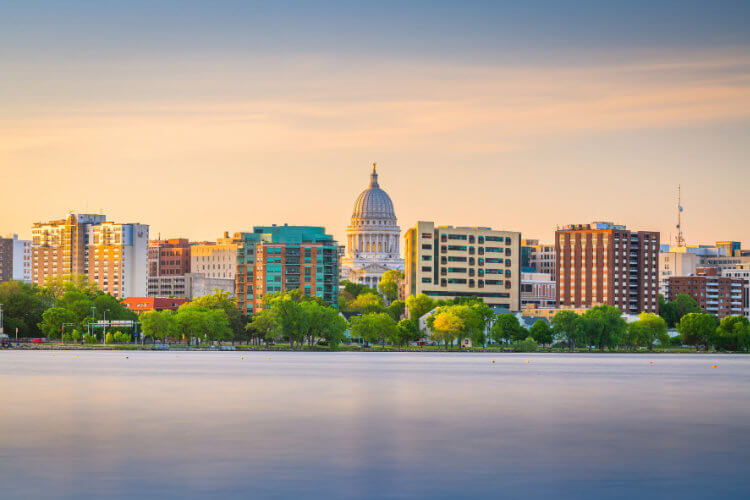 Madison, Wisconsin, is next on the list. A city that also scored well for commute times, coming in 11th, it takes 21.7 minutes on average to commute here. For businesses looking to build a skilled workforce, there are plenty of college graduates: 48.6% of the population in Madison have a bachelor's degree or higher.
The city also scored top in the US for new business survival rates so, if you're starting a business for the first time, Madison may be just the place for you.
Provo, UT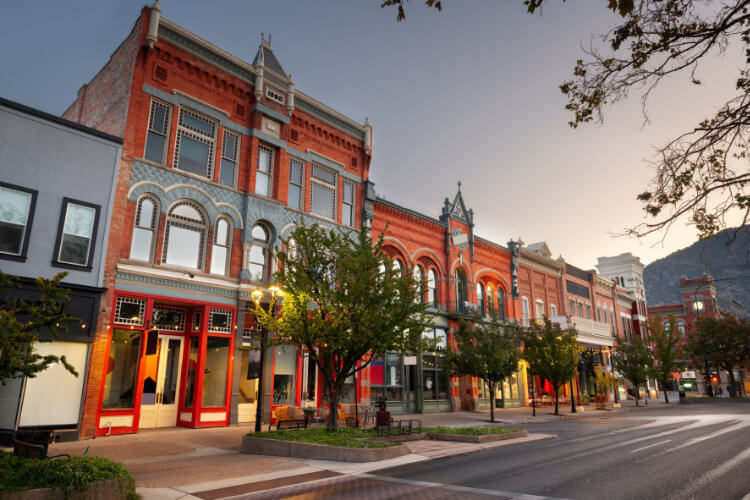 If you're a worker looking for a simple commute, or a business looking for happy staff, the metropolitan area of Provo-Orem scored highly for commuting. The area came in 8th best in the US, with an average time of 21.5 minutes. City growth across the area is also looking positive. With a projected growth rate of 2.66% from 2020-2025, Provo-Orem is the 12th fastest growing area in the US.
Job growth, too, is seeing a steady rise, with the city of Provo in Utah experiencing a 4.6% growth from March 2019 to March 2020, showing jobs in the city didn't suffer throughout the pandemic. Combined, these metrics position Provo as an excellent place for businesses to plant seeds for the future.
Fayetteville, AR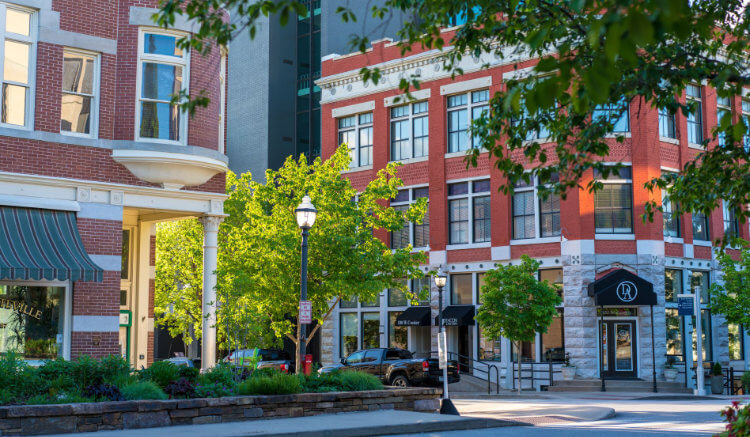 Another city that continued to experience job growth throughout the pandemic was Fayetteville, Arkansas. The city has seen a 2.5% job growth since 2019, positioning it as the 11th best in the US. City growth is also strong. Fayetteville has a growth rate of 3.04%, making it 6th in the US.
If you're looking for happy staff, cost of living is also low in Fayetteville, with just 19.97% of the average income spent on living costs. So, if you open a business in Fayetteville, you can expect content employees and promising prospects for growth.
Milwaukee, WI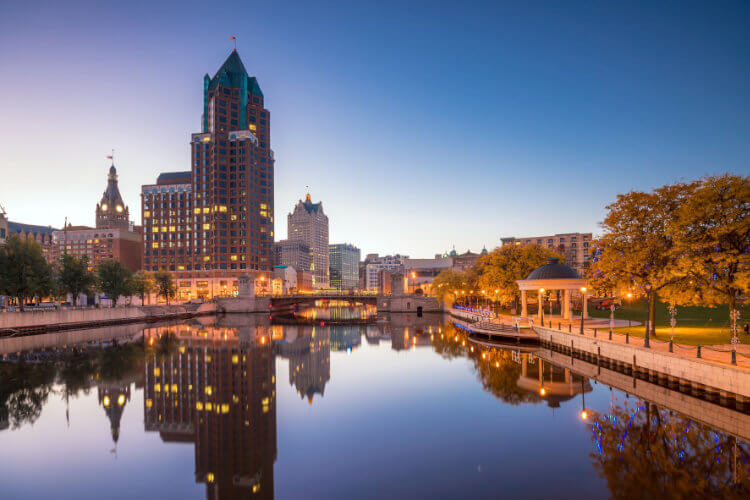 Starting a business can be expensive, so affordable office rent is a strong pulling point for new businesses looking to limit costs. If you're looking for a bargain, Milwaukee in Wisconsin offers the 5th lowest rates in the country, with average prices at $18.50 per square foot.
As well as cheap rent, starting a business in Milwaukee could set you up for success – the city is the 3rd best location in the US for new business survival rates. Together, these metrics make Milwaukee a serious contender for start-ups and businesses in their early stages.
St Louis, MO
If affordable rent and new business survival are priorities when selecting a location, St Louis in Missouri is also a top choice. Office rental is the 4th cheapest in the country at $18.40 per square foot on average, meaning getting set up with a new workspace is affordable.
Business survival rates are also the 5th strongest in the US, giving you a promising outlook if you're a business starting out for the first time.
Huntsville, AL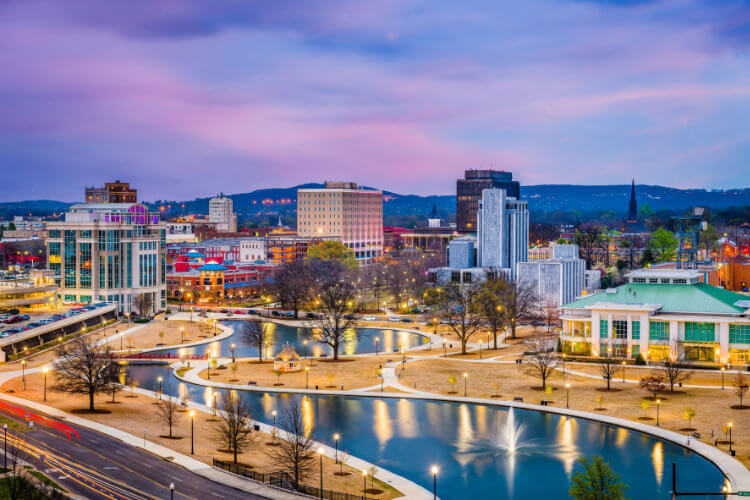 For those looking for excellent job growth prospects, Huntsville, Alabama is a great option. Jobs have grown by 2.3% over the last three years, positioning Alabama as the 12th best city for job growth in the US – and making it an attractive city for job hunters.
If job growth wasn't enough to get people flocking to Huntsville, it also came out on top in all of the US for cost of living – only 18.82% of income is spent on living costs on average. This is great news for people looking to move for work and means businesses in Huntsville can expect a motivated and happy workforce.
Scranton, PA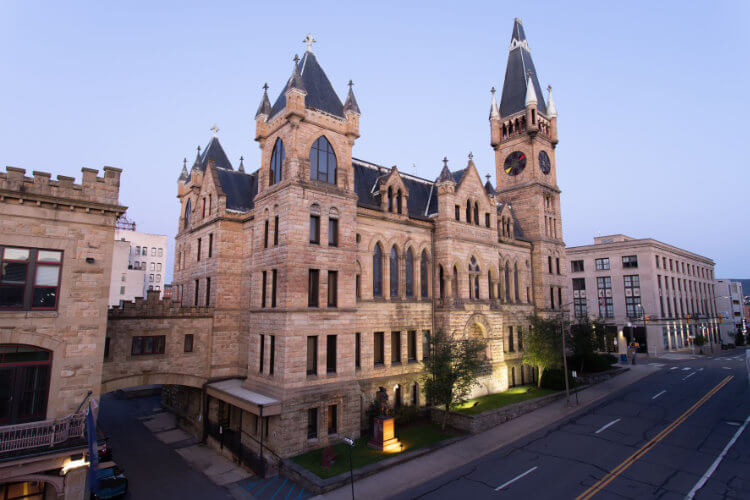 New businesses starting out in Scranton, Pennsylvania have an excellent chance of success, with the new business survival rate here ranking as the 4th best in the country. If you're a new business, Scranton could be just the city for you.
Great commuting times mean hiring will also be easy, as workers across the area will be easily accessible. Scranton ranked 12th best for commuting across the US, with the journey to work taking just 21.8 minutes on average.
Omaha, NE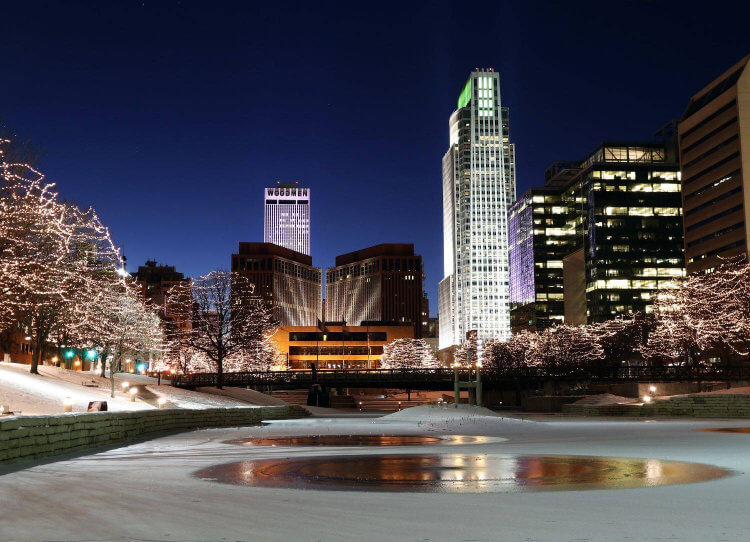 Finally, in our new business city index, we have the largest city in Nebraska, Omaha. Omaha scored second best in the US for commuting, with the time it takes to travel for work averaging at just 20.2 minutes. This means any workplaces in the city are easily accessible, opening you up to a larger potential workforce.
Omaha also came in 15th in the US for cost of living, with only 20.42% of income spent on living costs, on average. The combination of easy commuting and low cost of living makes Omaha an excellent place to work – a happy and motivated workforce is well within reach if you choose to start a business here.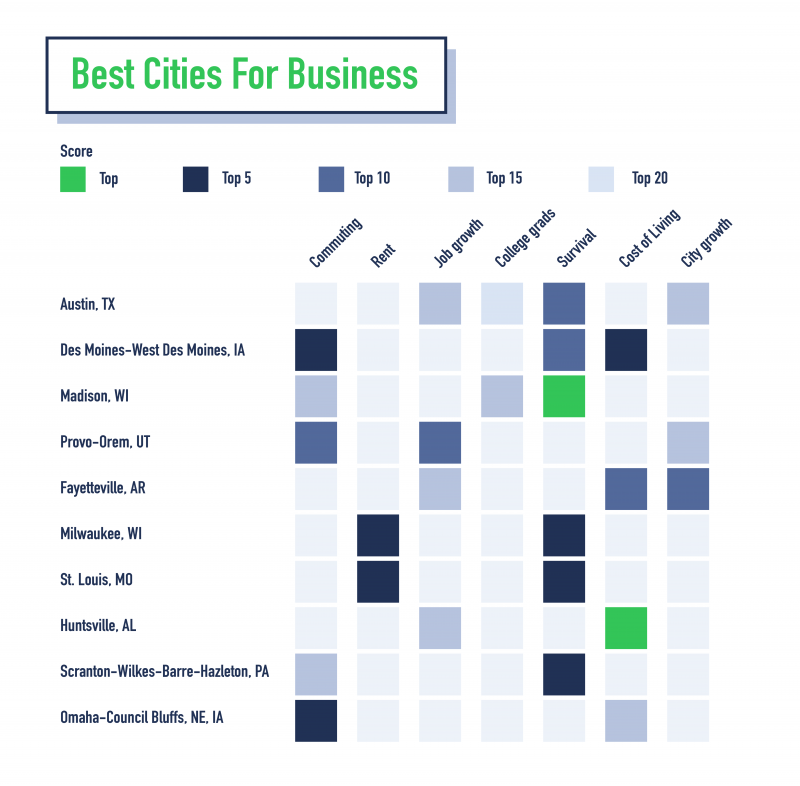 Methodology
To determine the best cities for new businesses, we analyzed seven metrics that contributed to business successes, awarding each city points depending on how highly they ranked – e.g. the number one city scored 20 points, 2nd scored 19, etc.
These metrics were:
*all statistics correct at time of research/publish
To calculate our top ten, we looked at how many categories each city scored in, with cities scoring in the most metrics appearing higher on the list. We then looked at total points scored to order our rankings.
Note: Where sources had fewer than 20 cities, the scores were weighted accordingly with the top city scoring 20 points, the second scoring 19 etc.