If you're thinking about starting a new business in Canada, location is vital. From finding a skilled workforce to ensuring easy commuting and quality of life, the city you're based in really can make or break your business.
The last couple of years has changed the way we work, with many adopting remote working options and communicating through video calls and virtual numbers. It has also meant those with a physical workplace have begun to think outside the box, moving out of the usual business hotspots and into new locations with better opportunities.
With this in mind, we've carried out a study looking at the best cities for business in Canada in 2022, taking into account commuting times, employment rates, city growth, cost of living, and the number of college graduates. If you're thinking about a business move in the new year, here's where to consider.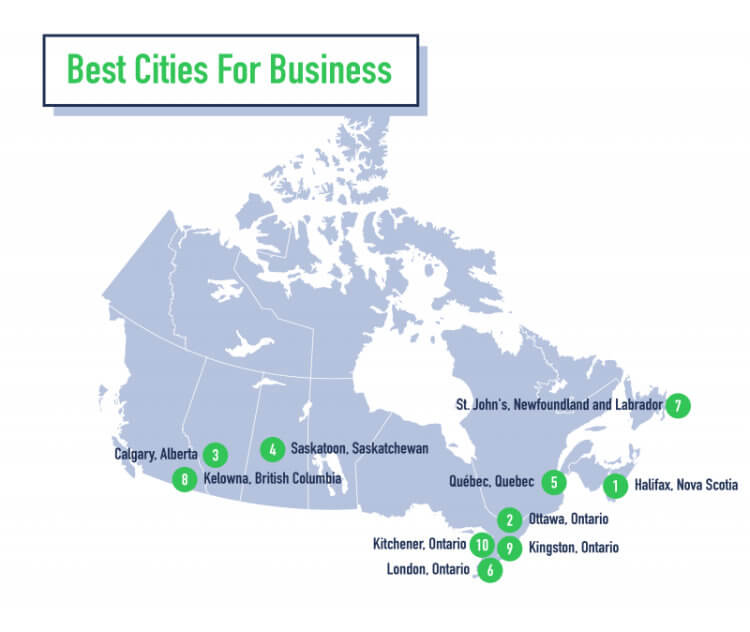 Halifax, Nova Scotia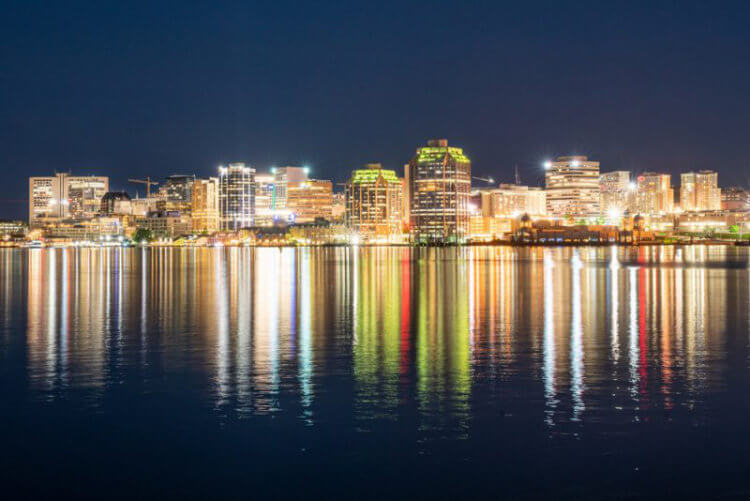 Coming in on top is Halifax in Nova Scotia. This enterprising maritime city scored in all five metrics in the study, with a notable second position for city growth in 2020, which increased by 2%. Halifax appeared in the top ten for job opportunities, with an employment increase of 3.5% in 2020. You can also expect a skilled workforce here, with graduates making up 49% of the population.
Add in fast commuting times and an affordable cost of living, and there are countless reasons businesses and workers alike are choosing to flock to Halifax.
Ottawa, Ontario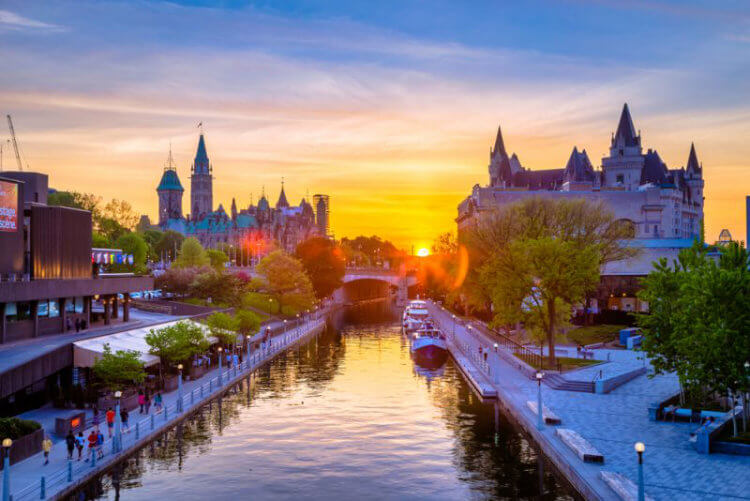 Ottawa was second on the list, also scoring points in all five individual metrics. Ottawa scored second for job opportunities, with an impressive employment increase of 8.3%. If you're looking to hire a skilled workforce, you also have a large number of graduates to choose from – 61% of the population have been to college.
With cost of living, city growth, and commuting also scoring high in Ottawa, it's clear the capital still holds excellent opportunities for business.
Calgary, Alberta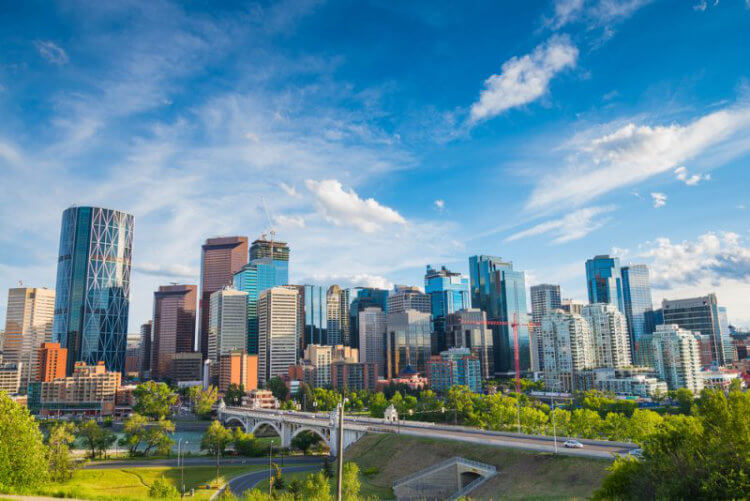 If you're looking for a fast-growing city with plenty of business opportunities, Calgary may be the perfect location for you. The city scored 5th for both employment and city growth, positioning it as a prosperous option for 2022.
College grads are abundant here, with 53% of Calgary's population holding a bachelor's degree or higher. The cost of living is also low in Calgary, meaning you can expect outstanding levels of employee satisfaction and a happy and motivated workforce.
Saskatoon, Saskatchewan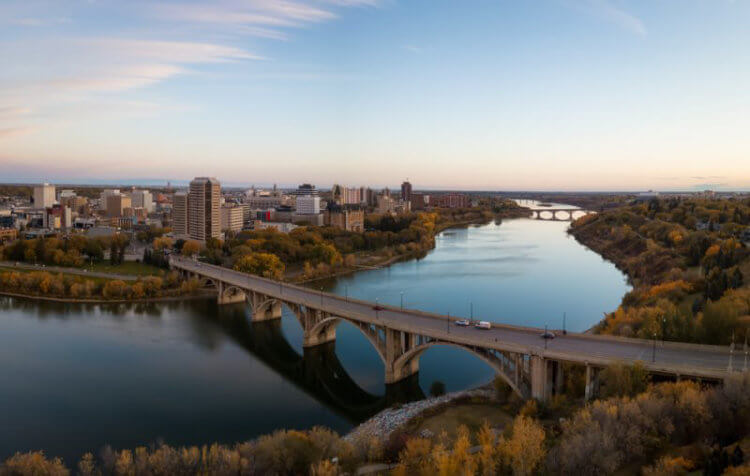 Saskatoon boasts excellent employment rates and a city growth of 1.9%, putting it in line as a great place for new businesses moving into 2022 and potential workers looking for new opportunities.
There are plenty of college grads living in the area, so if you're looking to build a skilled workforce, you'll be spoiled for choice. If that's not enough, the cost of living in the area is also excellent, so business owners and employees alike can enjoy a great quality of life if they choose Saskatoon.
Quebec City, Quebec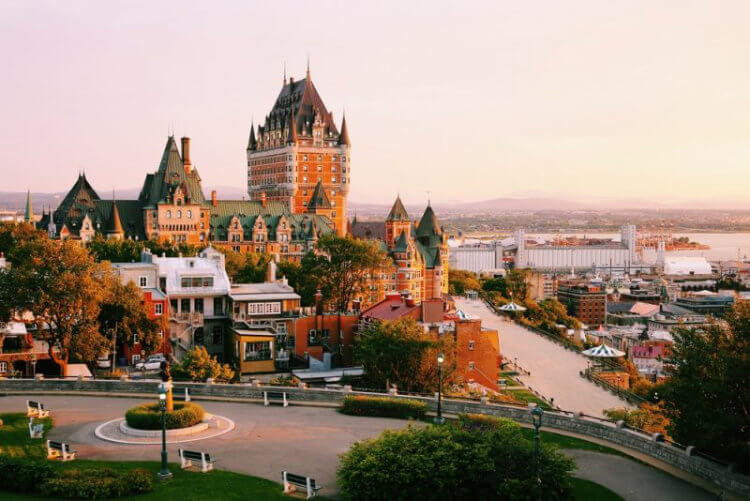 If cost of living is a priority when looking for a business location, Quebec City should be at the top of your list. The city scored top in the whole of Canada for living costs, making it an attractive prospect for those looking for an excellent work-life balance.
Job growth and commuting times are also superb across the city, making it easy to attract workers, while a high number of college grads means an educated workforce is within easy reach.
London, Ontario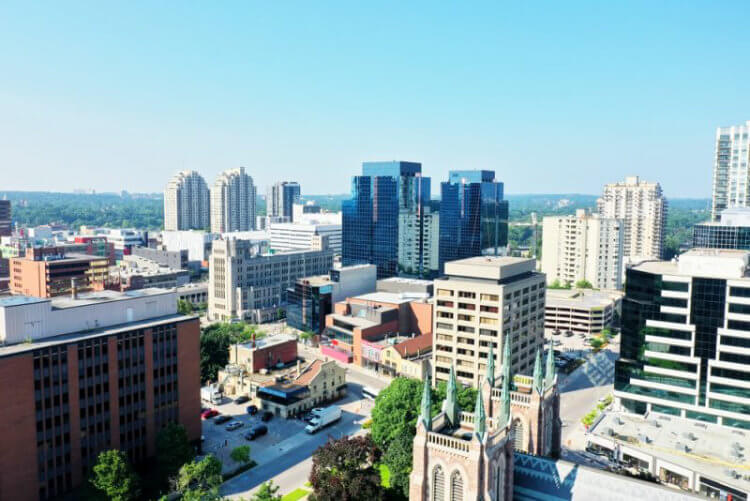 Next on the list of the best cities in Canada for business is London, Ontario. There are a number of benefits drawing businesses to the city, with London appearing in four of the five metrics in our index.
Commuting across the city is straightforward, while a large percentage of college grads means easy access to skilled workers. Cost of living scored highly, and London also scored 12th in the country for city growth, showing the area holds promising prospects in the years to come.
St. John's, Newfoundland and Labrador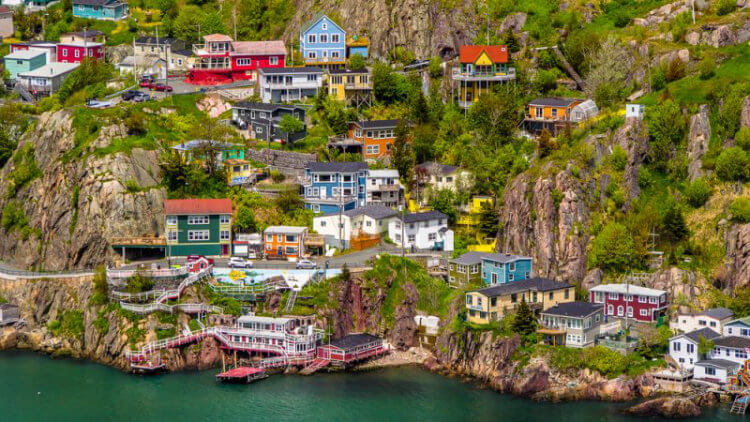 St. John's in Newfoundland and Labrador appeared in position seven on the list. While only appearing in three of the five metrics examined, the high scores received meant this city easily secured its place in the top ten.
St John's is the 4th best city in Canada for commuting, giving access to a larger volume of workers across the area and also helping improve employee wellbeing. Similarly, the cost of living in the area is excellent, so you can enjoy a happy workforce if you choose to begin a business here. Add to this a large number of college grads, and St. John's ensures a motivated and highly skilled workforce.
Kelowna, British Columbia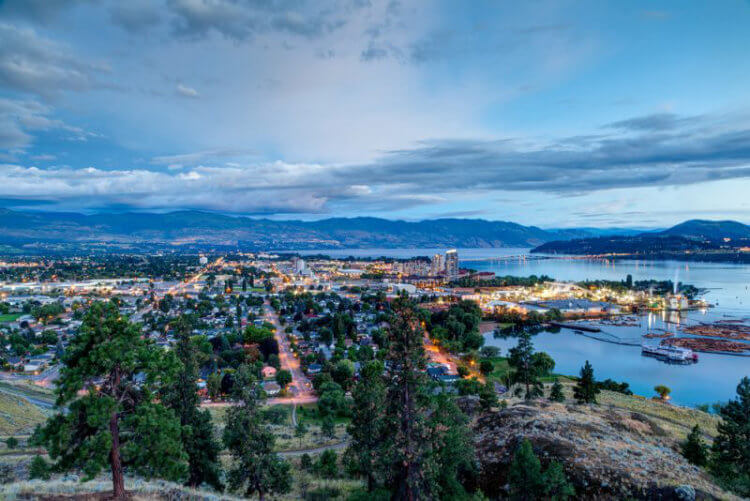 If you're looking for somewhere with growing opportunities for business, Kelowna in British Columbia is well worth considering. The area has increasing employment levels and decreasing unemployment levels, making it a great place to find an experienced and motivated workforce.
Kelowna appears in the top twenty cities for cost of living in Canada, so you can expect a good quality of life here. The future looks bright for Kelowna, too – it ranks fourth in the country for future city growth.
Kingston, Ontario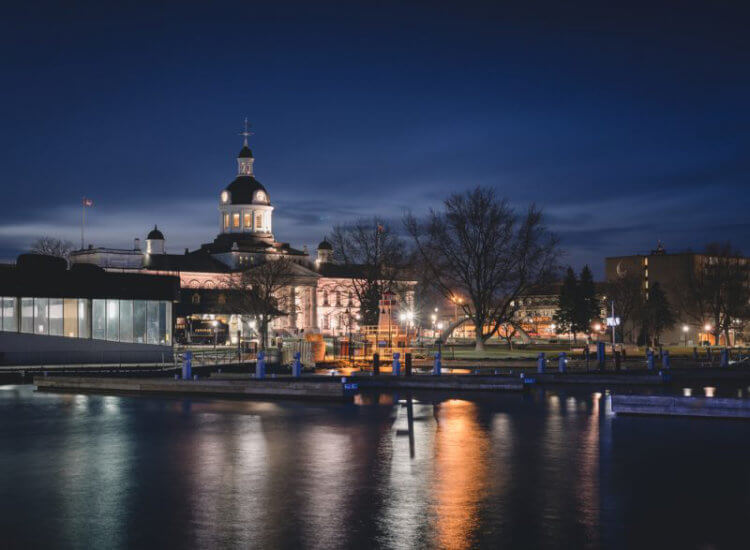 If navigating your new city is a priority for you and your business, head to Kingston, Ontario. This city scores within the top ten cities in Canada for commuting times, with fast travel helping attract talent and boost productivity. The workforce you can attract in Kingston is well educated, too, with 46% of the population made up of college grads.
A work-life balance is essential for business owners and employees alike, helping increase happiness and wellbeing. You'll find this in Kingston, which scored seventh in Canada for cost of living.
Kitchener, Ontario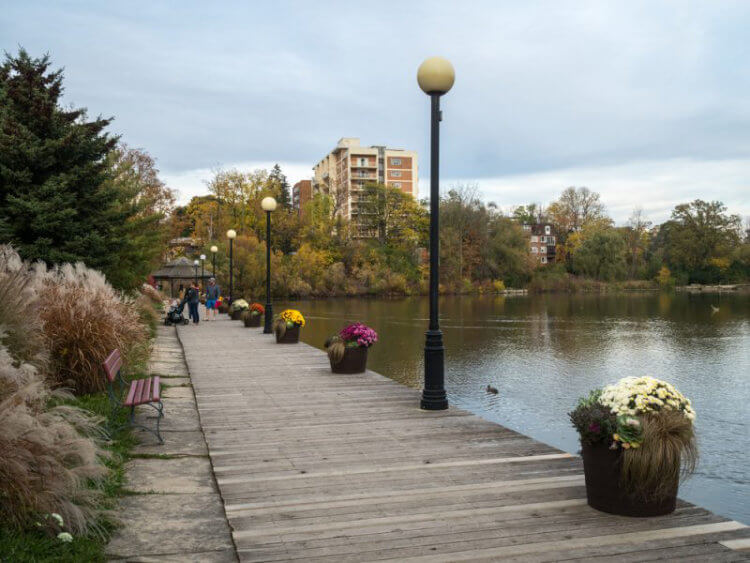 The future has to be considered when starting a business, and with Kitchener, Ontario ranking third-best in the country for city growth, this is a great place to lay down roots.
Happy staff are key to a successful workplace. This is another bonus offered in Kitchener, which appeared in the top twenty cities in Canada for both commuting times and cost of living.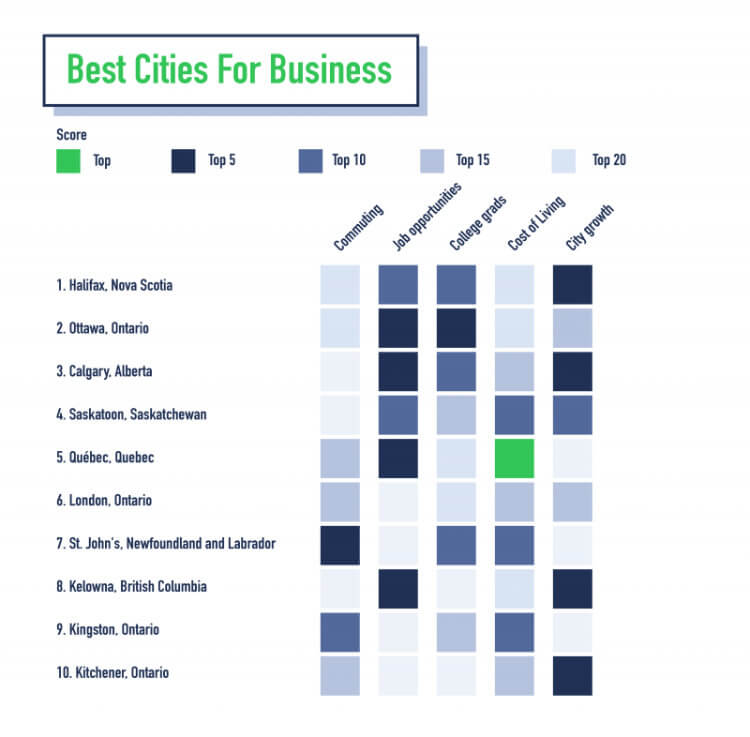 Methodology
To determine the best cities for new businesses, we analyzed five metrics that contributed to business successes, awarding each city points depending on how highly they ranked – e.g. the number one city scored 20 points, 2nd scored 19, etc.
These metrics were:
*all statistics correct at time of research/publish
To calculate our top ten, we looked at how many categories each city scored in, with cities scoring in the most metrics appearing higher on the list. We then looked at total points scored to order our rankings.
Note: Where sources had less than 20 cities, the scores were weighted accordingly with the top city scoring 20 points, the second scoring 19 etc.