For businesses, securing customers for one–off purchases has never been enough. Achieving a loyal customer base who holds your product or service in high regard is the best way of securing consistent revenue streams and profit. But with so much choice, how do businesses gain the loyalty of their customers? Are discount codes and sales important, or do customers seek virtual numbers to contact you wherever they are? As we head into a new decade, what proposition can you create that keeps hold of the customers you attract and staves off competitors? 
To find out, we surveyed 2,000 American consumers on all things customer loyalty, helping you gain insight as we head into 2020 and beyond.  
Word of Mouth and 
Online Reviews: 
The Importance of 
Social Proof
Social proof is a trending marketing term that refers to the power of other people's actions and opinions when considering purchasing a product. When asked what factors are most important to consumers when they consider buying from a business, social proof appeared regularly.  
Over 9 in 10 (91%) of consumers consider word of mouth recommendations to be important when making a purchase. 90% also consider online reviews from fellow consumers to be important, while a high number of shoppers (89%) said published online product reviews were important.  
The results show the power of fellow consumers and experts in the industry and the difference they can make. Nothing was more important to online shoppers than a recommendation from a friend or family member, or the words of someone who has used the product or service and posted their thoughts online. If they can't find the thoughts of another consumer, they turn to expert reviewers.  
Ethics and Values are Growing in Importance 
Taking the remaining two spots in the top five pre-purchase factors were business ethics (89%) and business values (87%). For the purpose of our survey, we used the following definitions:  
Business ethics: The practices a company operates within 
Business values:  The principles a company supports, even if it might not directly concern their business  
Their position among the most important factors to consumers is evidence of a growing business trend. Customers will stay loyal to a business that maintains responsible business practices or uses their brand clout to get behind a good cause.  
84% said they consider the ethics and values of a business when they are deciding whether to purchase from them. The five most commonly considered ethics and values are: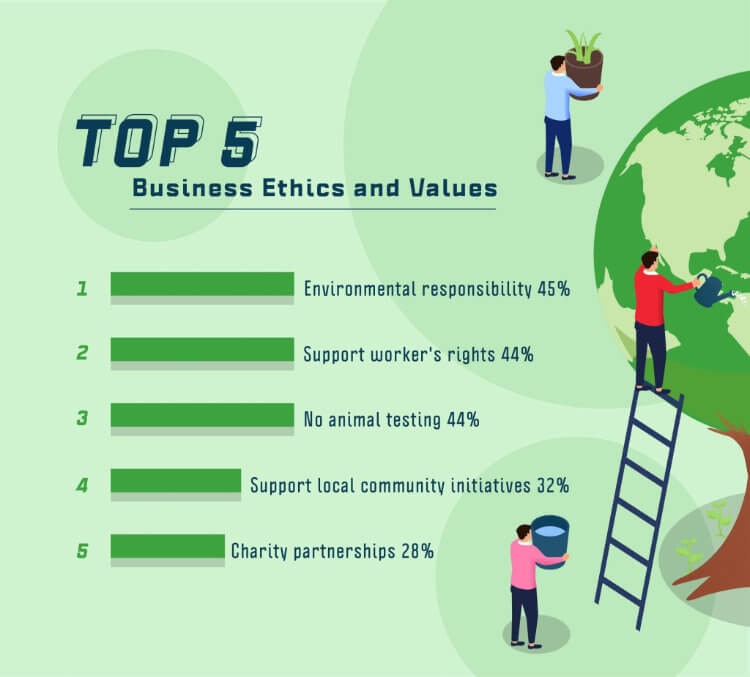 Environmental responsibility (45%)

Worker's rights (44%

)

 

No animal testing (44%)

 

Support local community initiatives (32%)
Charity partnerships (28%)
For businesses, ensuring you uphold the most environmentally friendly practices, look after your workforce, and eliminate any potential for animal testing are the three most important issues to focus on in the 2020s.  
That's not to say you shouldn't look to broaden into other areas. Significant numbers of American consumers said they also consider a business's local community initiatives (32%), charity partnerships (28%), commitment to closing the gender wage gap (26%), and support of LGBTQ+ rights (24%). Identifying the issues that matter to your audience could be the difference between them choosing you over your competitors.  
Even political stance, something that could be seen as a subject business should steer clear from, is growing in importance. Almost a fifth (18%) said it was something they thought about.  
To many people, ethics and values matter so much that it rivals the price of the product they are paying for. Almost half (48%) say a business's ethics and values are of equal importance to them than the price.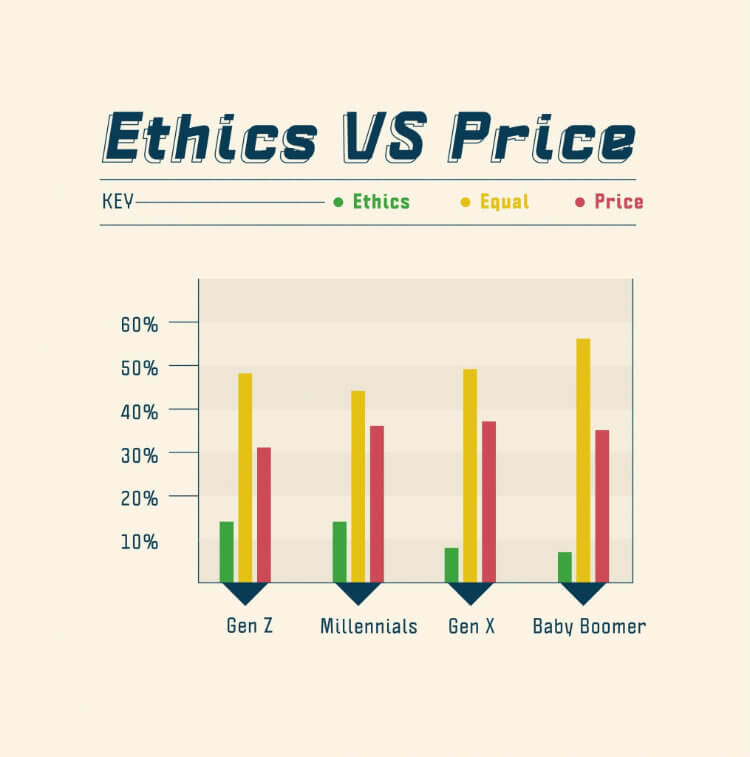 10% consider ethics and values to be important, and it's a trend that appears to be growing. At 14%, Generation Z (18-23-year-olds) and Millennials (24-37 year-olds) were twice as likely to consider ethics and values to be more important than price than Baby Boomers (53-71-year-olds) with 7%. 
Consumer are happy to look elsewhere if they aren't happy with your ethics or values. 41% said they have boycotted a business after disagreeing with their ethics and values.  
Trust in Digital is Wavering 
In the age of fake news and fears over hacking, information beamed to us via digital channels is beginning to be called into question.  
We asked respondents to rate how much they would trust advertising across a variety of platforms. Digital channels, and especially those that have a reputation for misinformation or scams, scored lower than traditional platforms. More than a third said they considered advertising via email (38%) and social media (35%) to be untrustworthy. Almost one in three (28%) said the same of online newspapers. The most untrustworthy platform of them all was a celebrity or influencer affiliation with 44%.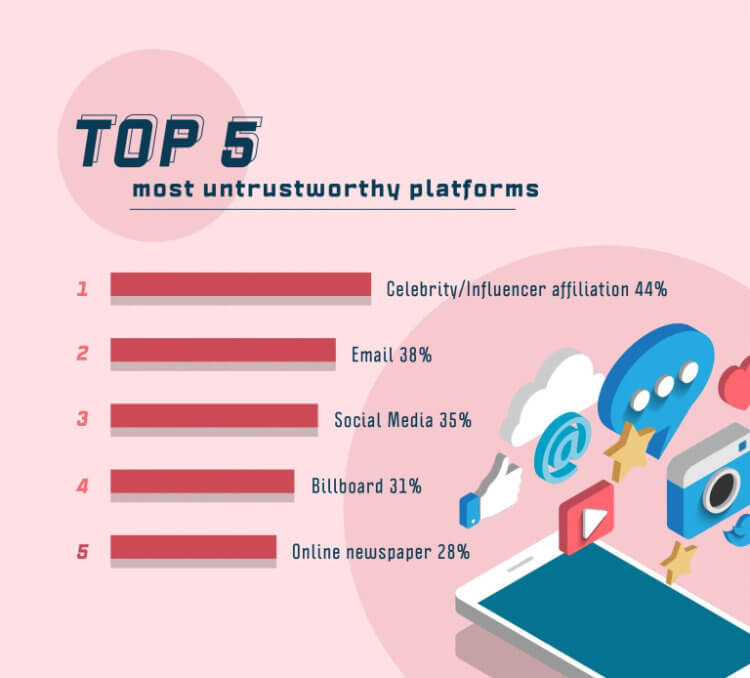 In comparison, channels that have been established longer appear to have gathered less distrust. Less than three in ten consumers said that TV (27%), radio (25%), and physical newspapers (22%) were untrustworthy. 
Service a
nd Price Still Buy Loyalty 
For businesses looking to adjust their strategy based on the above, be sure to take it within the wider context of your business offering. We also asked respondents what would make them more loyal to a business by continuing to purchase from them. The top five factors show how the fundamentals of business never change: 
Good Customer Service (71% 

said it would make them more likely to remain loyal to a company)

 

Consistently 

l

ow prices 

(56%)

 

Loyalty program (50%)

 

Discount codes (50%)

 

Free gifts (40%)

 
Respecting your customers by offering good service and competitive pricing is always a reliable way to attract and retain customers. Additional factors like discount codes (linked to low prices), loyalty schemes, and freebies can act as the low–level awareness that keeps your business in the minds of customers, and means they come back to you as opposed to heading for competitors.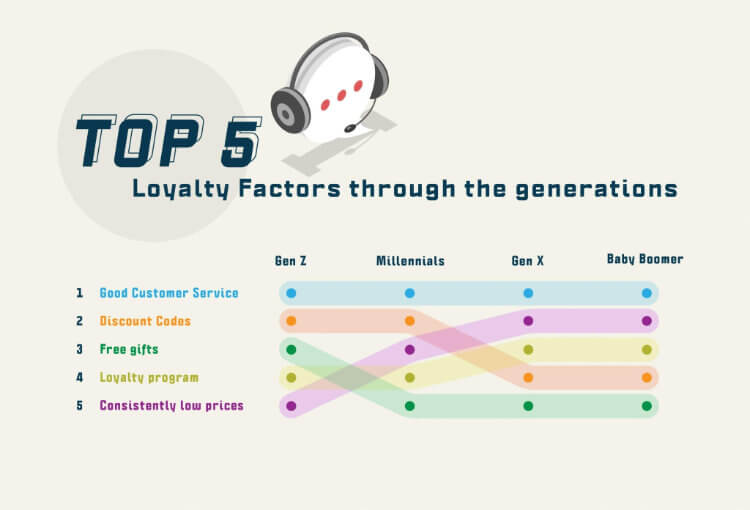 This may be especially true for Generation Z. While "Consistently low prices" ranked in the top three for all respondents aged over 23, it came down in fifth for Gen Zers. The same factors named above made up the rest of the top spots, making things like loyalty programs and free gifts ever more important to winning the loyalty of this age range.  
Just be sure to consider the mindset and makeup of your audience. People of different ages care more for different subjects, leading them to be more loyal to different industries.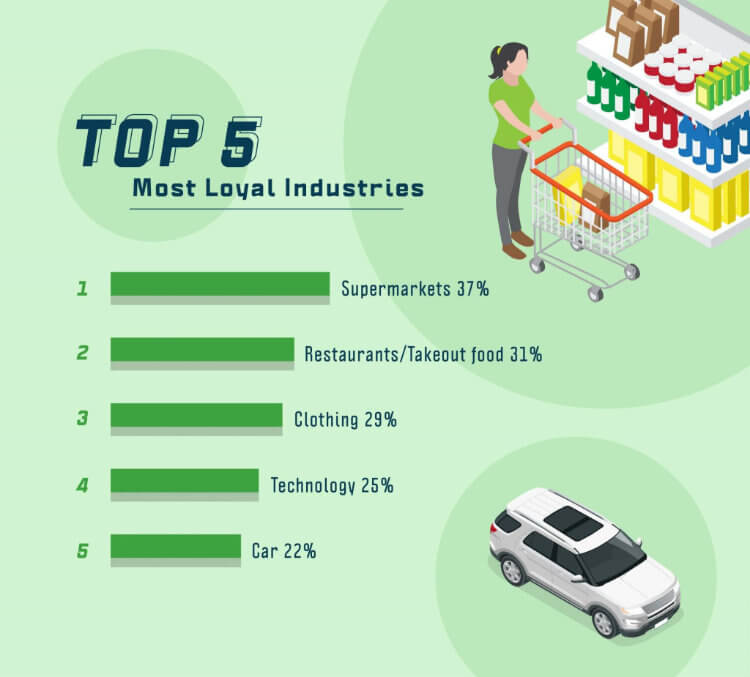 Generation X and Baby Boomers stay loyal to the cars they buy, supermarkets they shop in and even the gas station they fill up in. Generation Z and Millennials are more concerned about where they buy their clothes and technology. Considering tech has tribal rivalries like Apple vs Android and PlayStation vs Xbox, generational loyalty reflects the interests of the people within those generations.  
The digitization of commerce creates new challenges for businesses looking to develop a loyal customer base. It's increasingly important for customers that you uphold the most socially responsible business practices, and it's never been easier for them to make a complaint should your business come up short.  
As 2020 approaches, find the issues that matter to your customers and ensure your business makes them a priority.