Internet outages can have a seriously adverse effect on the perceptions customers have of your business, making you look unreliable and unprepared, even if the situation is completely out of your control. While the customer or client should always be your first thought, something business owners may not immediately think of when they're analyzing the impact, though, is the money lost through wasted employee hours.
In 2010, CA Technologies estimated that every business suffered from around 14 hours of downtime annually. While that may not seem like a long time over the course of a year, multiply by that by the amount of staff you have and you begin to see the scale of the problem. With businesses overall, but especially those in the computer and tech industry, increasingly more reliant on the internet to function, the ramifications of outages are significant.
With wages, productivity and reputation at stake, how much is internet downtime truly costing tech businesses in the US?
The financial implications
To calculate how much money business could be wasting on employee wages through internet downtime, we looked at 25 of the biggest computer software and information technology service companies. We analyzed their employee figures, average wage data and applied those figures to the average annual length of downtime (14 hours) to get a snapshot of the problem. See our results below: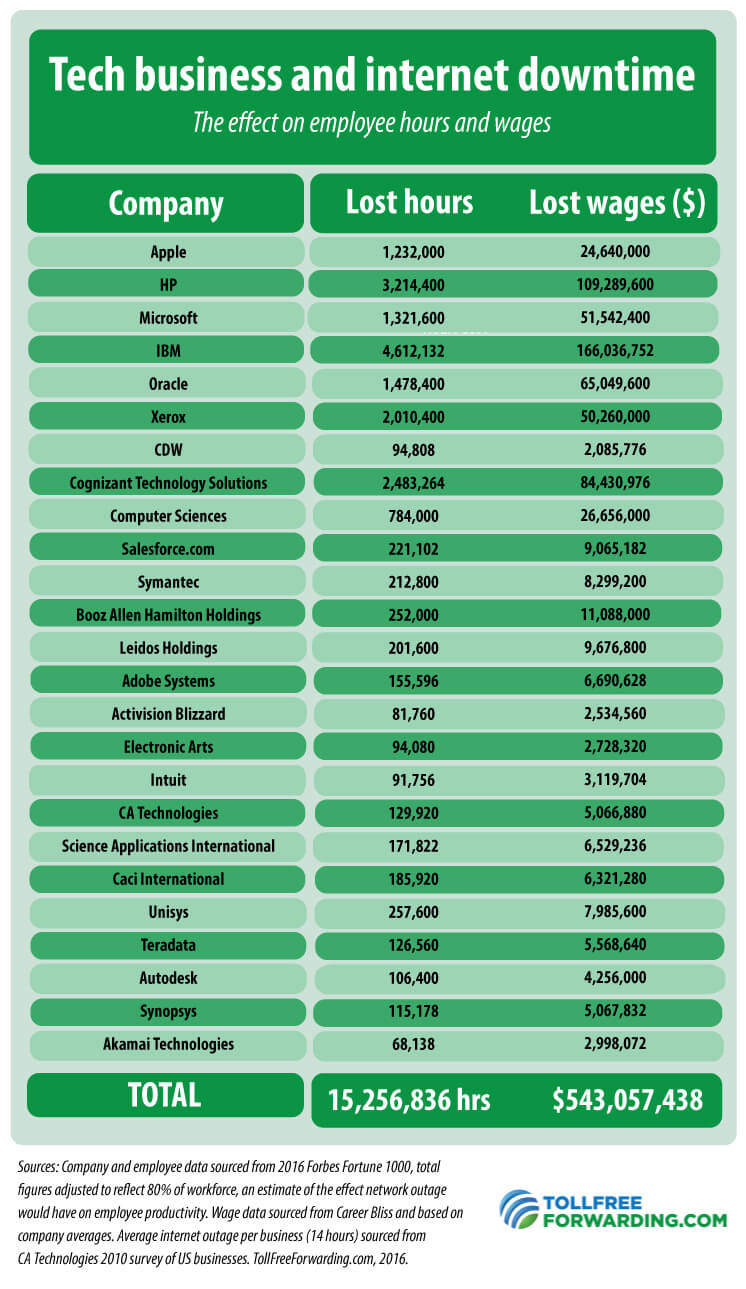 *Full methodology below
We found that in these 25 businesses alone, 15,256,836 hours are potentially wasted every year because of outages. That equates to a staggering $543,057,438 in wages, which could pay for 10,568 extra staff members. With such a large workforce, IBM was the biggest loser and could be losing up to $166 million a year on hours wasted when there are internet outages, with HP not far behind on $109 million.
What effect does it have on your business?
Although internet, computer, and tech-based businesses will generally be affected the worst, in today's climate of an increased reliance on e-commerce and online customer service, all businesses are at risk. It is the unpredictability of the situation that most riles Leo Walder, founder of ChooseWhat.com:
"The Internet has gone down a few times over the years, and it's a minor nightmare. One of the most frustrating things is that you don't know how long it's going to be out."
This unpredictability can mean that it's difficult to decide how to prepare and direct staff who are often disrupted. Having set tasks including anything from catching up on filing to cleaning the kitchen can help you make the most of the time and keep staff focused.
While a contingency plan is a great idea, Ed Brancheau from Goozleology on the other hand, has a rather more relaxed attitude to deal with the situation:
"Now, when the internet goes down, we draw straws and the one with the longest straw gets to pick which predetermined activity we will do together and the one that draws the short straw gets to sit around the office doing whatever they like until the Net comes back on. If it goes past 2pm, everyone goes home early for the day."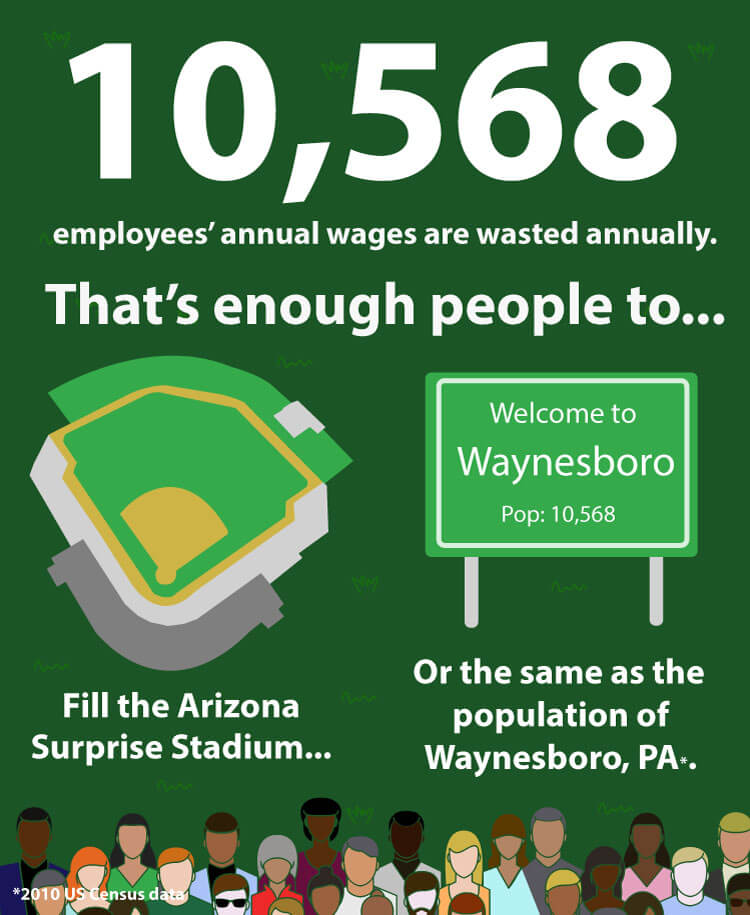 What effect does it have on staff?
Despite having no control over the situation, many staff feel extra stressed when the internet does go off as they realize they will have to make up the time lost. Aleks Almeda, Computer Application Supervisor at Scarinci Hollenbeck commented:
"As a Computer Application Supervisor, I would see it as an opportunity to show people that they can still do their work. However, on a personal level, I would get stressed because so many necessary applications are dependent on internet connection."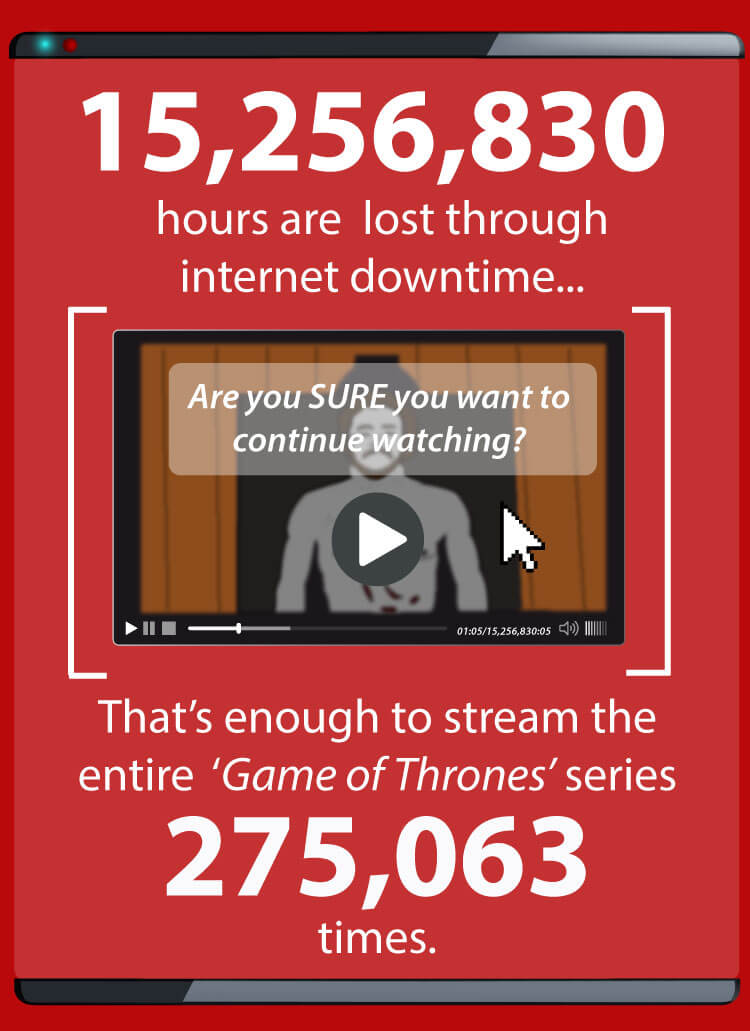 Business leaders have a responsibility to keep their staff motivated, so if you feel like staff will be negatively affected by outages then you need to have contingency plans in place. Whether that is a technical plan to mean you can stay online or simply having prepared offline work to keep staff occupied, explore all the options. At the very least reassure them that the situation is out of their control and allay any concerns about deadlines or additional work they may have.
One way to tackle the problem and allow staff to get back online could be to set up alternative connections, like AJ Saleem from Suprex Private Tutoring:
"I decided to add a portable hotspot on my cell phone for a nominal fee. This allowed me to give my employees internet whenever there is a power outage and it keeps productivity to a maximum."
How to prepare
If you want to keep track of internet outages globally you can use tools such as Outage Analyzer, which tracks web service outages around the world at any given time, and may give you some indication as to whether your region has particularly bad internet coverage. It might also be worth checking with your internet provider about the provisions they have in place in case of an outage.
With internet outages frequent, often unpreventable, and out of your own control, we spoke to Jim Angleton of financial advisory firm Aegis FinServ Corp about preparing a contingency plan when the inevitable happens. Here are his six preparatory steps:
Hire the best consultants to advise you, as failure to keep customers satisfied could have disastrous results.
Create scenarios that have yet to be experienced and focus upon resolving the 'what-ifs' that can cause great harm to your company, before executing plans for corrective measures.
Appropriately budget more funds for alternative communications, in case outages cause your firm not to deliver and meet the expectations of customers.
Hire an external company to test, test and test again to ensure your plans are foolproof.
Obtain plans for damage control press releases and don't be afraid to admit problems and disclose what you are doing about it. Be ready for when the media calls you for a quote. try and offer a sincere commentary on the situation.
Be ready to make amends to clients and customers and reach out to them with updates about your dealing with the problem. Nothing speaks better than admitting your mistakes, making amends and maintaining your client base.
Do you have any tips on how to deal with internet outages? Let us know on Twitter @TFFSocial.
Internet outage methodology
To get to the numbers we had, we used a number of different sources and calculations. We chose the 25 top businesses from both the computer software and information technology service industries. All of these businesses feature in the Forbes 1000 (the expanded version of the Forbes Fortune 500).
From Forbes, we sourced the number of employees in each business so we had a metric to measure how many people in each business would be affected. Not all aspects of a business are immediately affected by internet outage, so we calculated a conservative estimate of 80% of each business' total employees, to represent the range of employees who would still retain the ability to work to full capacity despite a lack of internet access.
Once we had this number for each business, we used the average of '14 hours' annual downtime from CA Technologies 2010 study (one of the businesses in our study) to estimate the number of total downtime hours annually for each company.
To work out the monetary cost of this downtime we needed an average wage for each company, and sourced the information from careers site Career Bliss, which uses data from the thousands of jobs listed from each company on its site to give an average wage. We then multiplied this number by the total number of downtime hours for each business to calculate the cost in lost wages.