Young people of voting age (18-34) make up a large part of the voting public (around a third), making them the second biggest demographic after 45-64-year-olds. Despite this, their voter turnout percentage is consistently the lowest across all of the age groups. For example, only 23% of young people aged 18-34 were reported voters in a 2014 census, which pales in comparison to the 59% of over 65s who said that they voted.  With so few young Americans out there voting, how can politicians connect with this large section of the population who seem disinterested with the political system?
Social for Votes
Almost two-thirds (73%) of Americans have a social media profile. That means over 200 million now have a profile on Facebook, Twitter, Instagram or any of the other major platforms. Younger people, who have grown up with this technology, are understandably, even more likely to communicate online, with 98% admitting to a recent study that they'd used a social platform in the past month.
Social media appears to be the best way to engage with this big section of voters, and it seems that all of this year's prospective presidential candidates have really taken this on board. From the multiple republican candidates including Donald Trump, Ted Cruz, Marco Rubio and Ben Carson to the Democrat rivals Bernie Sanders and Hillary Clinton, this election has been dominated by social soundbites and imagery.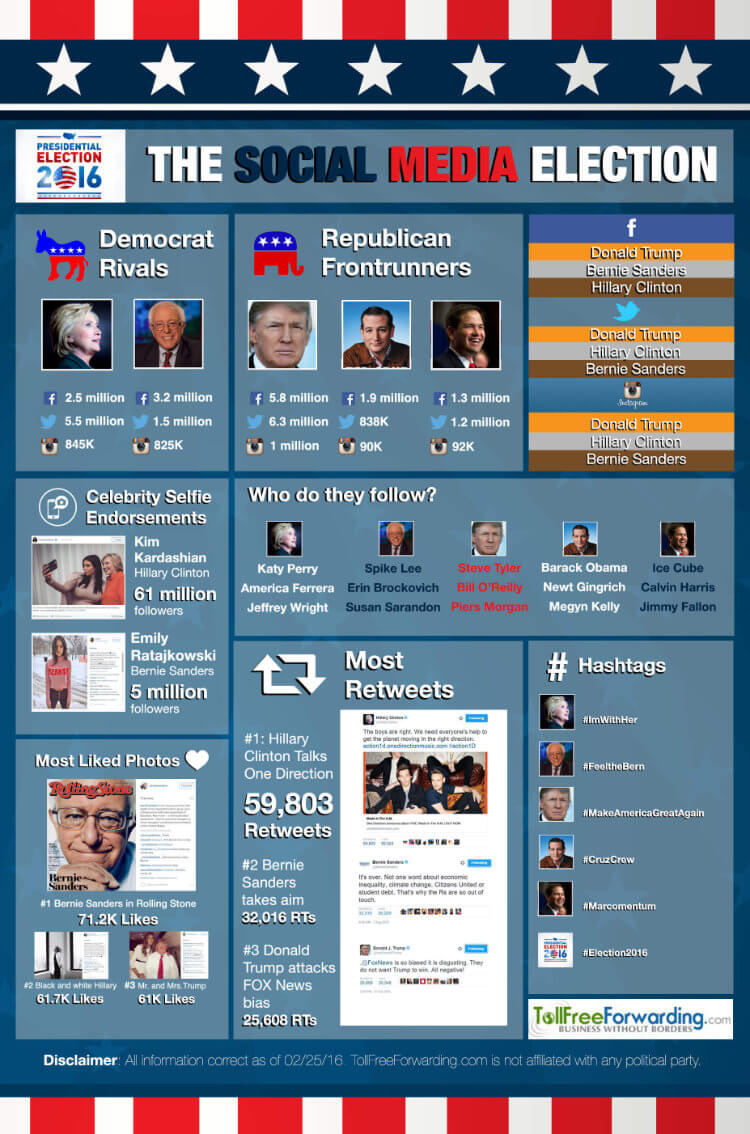 How Useful is it?
Social is a great tool for communication. It can get messages out in front of an already established audience and can even encourage online debate. In recent years, it has even been used as a tool to gauge public opinion.
You can look at the way social content is received online, for example on a basic level by looking at engagement rates (how many people have liked or commented on a piece), but you can get even more in-depth with sentiment analysis tools.  In 2014, during Scotland's independence referendum, sentiment on social media pointed to an overwhelming victory for the 'Yes' campaign. However, in reality, the vote revealed a comfortable victory for the 'No' campaign. So, although American politicians should utilise social platforms to help promote their campaigns, they should also be wary of reading too much into follower numbers.
The Candidates
To get an understanding of how this year's candidates are shaping up in the run-up to Super Tuesday, we produced an infographic with all the stats you'll need below:
Democrats
Hillary Clinton: 8.9 million total social media followers
Bernie Sanders: 5.5 million total social media followers
Both candidates have strong and engaged social followings which fits in line with some of the party's key demographics. Around 51% of young people aged 18-33 identify as a Democrat, compared to only 35% for the Republicans. There's no surprise that with more of this group online, a generation who are more comfortable with the use of social, their followings engage more.
While they may have fewer followers than the Republican front-runner Donald Trump, both the most liked Instagram photo (Bernie Sanders in Rolling Stone) and most retweeted tweet (Hillary Clinton talks One Direction) belong to the Democrats.  Surprisingly, though, the candidates have had Twitter accounts for less time than all three of their republican rivals.
Republicans
Donald Trump: 13.1 million total social media followers
Ted Cruz: 2.8 million total social media followers
Marco Rubio: 2.6 million total social media followers
Donald Trump is the clear overall winner when it comes to overall social following. He has an online audience almost the same size as both of his Democrat rivals combined and around 5 times as many as his next Republican rival, Ted Cruz. Trump's popularity online is undoubtedly, partially connected to his status as not only a presidential candidate but as a media personality.
All of the Republican candidates have been on social media for over 5 years, with the youngest candidate, Marco Rubio, having a Twitter account for the longest (set up 7 and a half years ago).
The candidates in this year's election have all embraced the use of social media as a means to get their message on a platform seen by millions. While it can be a fantastic tool to convey information, we shouldn't use it as the sole metric to measure success. A follow on Twitter is by no means the same thing as an endorsement, but it is an extra pair of eyes on your political message.
This infographic was produced by TollfreeForwarding.com