Robin Farr writes in an article on Ragan.com,
I've answered dozens (hundreds? Sometimes it feels like hundreds) of questions from communications students or those wanting to get into the field about how, exactly, one goes about doing that.
The short version: Skill. Timing. Luck.
If you don't feel like leaving it up to luck, focussing on the other two points can give you the competitive edge in the job-hunting process.
We created this guide to help people plan the career they want in fields relating to communications, media and business management.
Choosing the relevant college course
We spoke to Richard Spector of the Public Relations Society of America (PRSA), the world's largest organization for public relations professionals, working to advance the public relations professional and the profession:
Which college classes, if any, would you particularly recommend for people looking for a career in PR?
I would consider classes in the different disciplines of public relations to get a well-rounded education. Much of PR is really "integrated marketing communications today", so I would consider classes in digital media, communications, marketing communications, analytics, writing for the web, print, social media, brand consistency and reputation management.
QS' World University Rankings, released annually, are a great starting point in your search for a university course.
So far they have released three rankings for Communications & Media Studies (2013, 2014, 2015), and one for Business and Management Studies (2015).
A range of information is available for each school to help you make the right choice: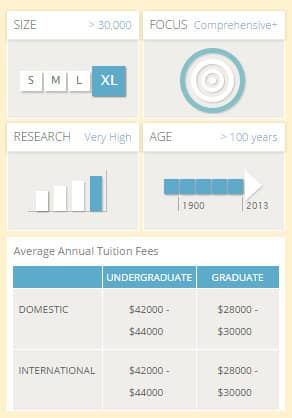 We pulled the top 10 schools in the USA for each subject from the 2015 rankings onto the map below, and you can click here to explore an interactive version!
Communications & Media Studies
The 2015 rankings placed 9 of the top 10 universities in the world for this course within the US.
University of Wisconsin: Departments of Communication Arts (www / FB / tw), and Journalism and Mass Communication (www / FB / tw)
Stanford University: www
London School of Economics
University of California, Berkeley (UCB): www
University of Amsterdam
California and Michigan are strong contenders: the former has four universities in the ranking, the latter has two.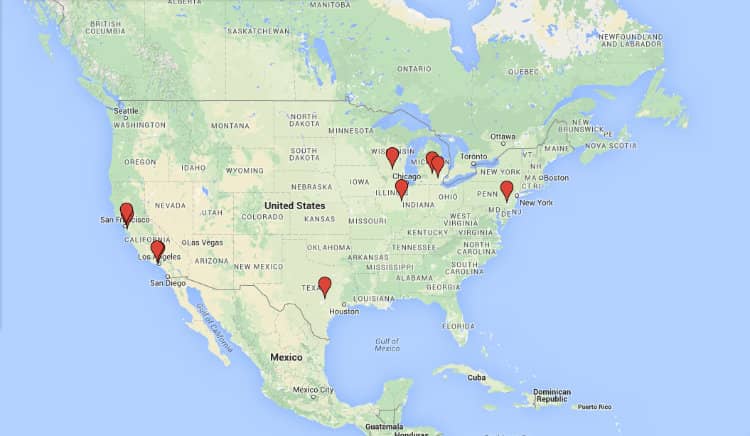 The Public Relations Society of America (PRSA) has a page on their website offering information on university courses in the USA offering relevant courses, which may be another good place to look. See it here.
Business & Management Studies
Four of the world's top 10 universities for this course are in the US, but the courses on offer still score well.
The 2015 ranking is the only one available currently, meaning that schools' movement between years cannot be seen.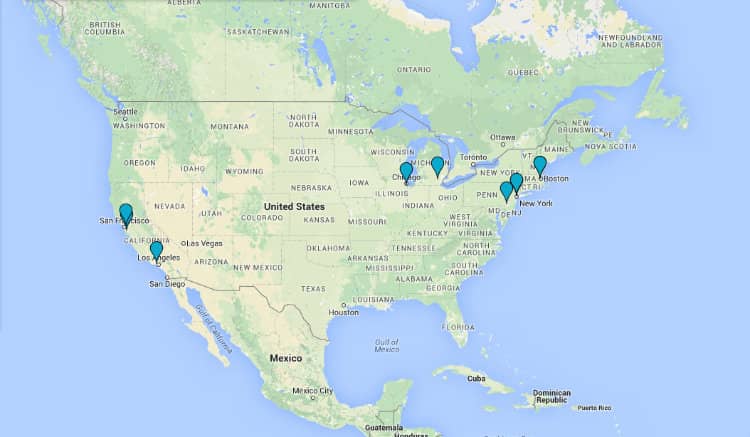 London Business School
INSEAD
Università Commerciale Luigi Bocconi
Oxford University
London School of Economics and Political Science (LSE)
Copenhagen Business School
Getting a head start
Upon graduating college, prospective employers will look at what you have done outside of your academic course. This indicates the type of person you are, and may help in making you stand out from the crowd.
One way of doing this is to consider attending a summer school. The benefits are many:
You may gain advantage over fellow students and be able to graduate sooner
You may be able to complete a pre-requisite for a different course and change trajectory
You can widen your skillset by taking a shorter course in an area that outside your course
It may help you stay in the studying mind-set over summer, making it easier to get back into the swing of things when semester starts again
Many of the universities in the previous section offer summer classes – to find out if there's any that would suit your preferred career trajectory, get in touch!
Informational interviews
An informational interview can have several benefits. You can:
Introduce yourself to people at the company, and build contacts
Register your interest in future employment and find out about opportunities that may exist in the future (although it is not good form to ask for a job at the time!)
Learn about the career path you're considering
Gain knowledge of companies' working practices and work environments
Interview formalities should be followed despite knowledge that the result of the interview is not a job offer: this means you should dress smart, turn up on time (or ideally early!), and do your research in advance. The latter point will ensure that your questions are intelligent and garner useful answers.
Some useful tips for informational interviews:
Prepare questions in advance, have them written down, and try to practice them at least once before the actual interview
Prepare some answers in advance for questions you may ask: careers services at your college will often offer mock interviews for you to practice these
Bring a resume, just in case!
Follow-up with a thank you note and an invitation to connect on LinkedIn
Networking
Many jobs come from a recommendation made by a connection within a company, a passed-along CV, or something similar. This is not 'cheating', merely taking advantage of opportunities and having an understanding of your professional network. Remember – sending off resumes is not the only way to find a job!
It can sometimes be hard to think of connections you may have, especially outside of immediate friends and family. There are often surprising links though, and it's worth exploring these. One useful tool is to write a list of 75-100 people you know, and think about the people they know.
Brushing up your resume
There are plenty of places to look for advice on ensuring your resume is up to scratch.
Many colleges will have careers advice centres that are positioned perfectly to offer you advice – we highly recommend getting in touch with them. As usual, the internet also offers some good insights. Below are two Reddit threads where recruiters have answered questions from the community about various aspects of the job hunting process:
Some collected insights:
Show a direct link between actions and accomplishments
If you have a long break on your resume, explain this with a brief note on the application
Remember the 8-20-5 rule: recruiters will spend the first 8 seconds looking for a reason to stop reading, then 20 seconds looking for a reason to keep reading, then if they're happy, 5 minutes reviewing the candidate in full
Concise bullet points are more likely to be read than rambling sentences
The consensus seems to be not to list hobbies and interests, as these are rarely relevant
Read over your resume after it's finished, and have someone else read it too. This is the most sure-fire way to catch any mistakes
Reducing risk of your resume getting caught by screening software
With the enormous volume of resumes received by businesses for job postings, some have taken the step of running them through a filter as the first step of the recruitment process. These filters have several steps:
A parser removes styling and strips the text down into plain strings
Meaning is assigned to content by grouping strings into categories
Employers are then able to search by keywords and be shown resumes that include relevant terms
Resumes that best match the selected terms are shown, secondary priority is given to years of experience
If your resume doesn't have relevant keywords or is formatted incorrectly, it may not even be seen by human eyes.
The process may sound complicated and unforgiving, but there are ways to improve the likelihood of your resume making the grade:
Use keywords that are present in the job specification, but also related terms. A great article on the Resume-Help blog recommends identifying primary and secondary keywords:

Priority resume keywords: words used in the company's listed job title, used in the description headlines, used more than twice, called out as success criteria
Secondary resume keywords: mention of competitor companies or brand name experience, keyword phrases (phrases surrounding priority keywords), notable industry qualifications (training, associations)

Ask someone within the company what they look for in a candidate, and tailor your resume accordingly. If you had an informational interview, you'll probably know the answer to this.
Don't be shy with mentioning relevant terms, but ensure a balance between is struck and it stays readable to human eyes! Creating listed sections showing relevant skills is a good way of including them without forcing them into the copy.
Don't use images as this may confuse the software
Avoid storing important information in the header, as this may be stripped completely by certain software
The most important factor though, is making sure you're actually the right candidate for the job! Never put skills on your resume that you don't possess, regardless of how this will impact screening.
The technology behind this software is becoming increasingly sophisticated. Monster offer a service on their site called 'Power Resume Search Test Drive' (PRSTD), which you can explore for an indication of what criteria employers will use.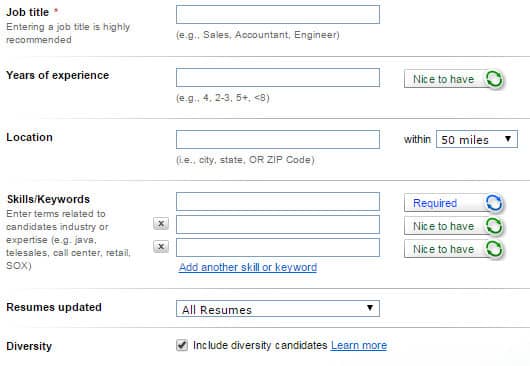 Note the 'required' vs 'nice to have' selector: precedence will be given to candidates
demonstrating the required skills
This service also comes with a comprehensive tutorial. We recommend exploring the tutorial and experimenting with the PRSTD to gain a deeper understanding of the 'other side' of the recruitment process.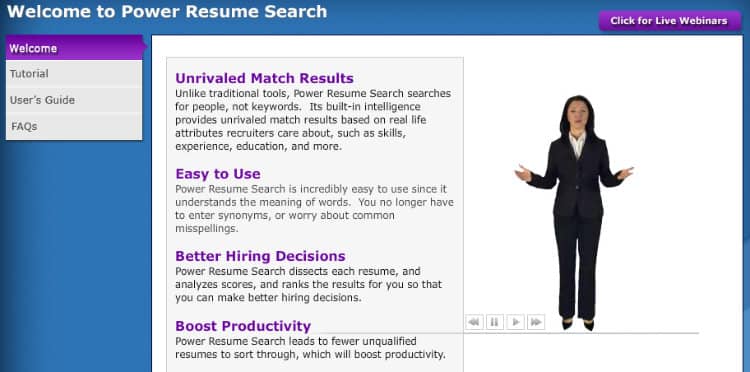 Finding opportunities
This is the part of the process that has the potential to be most gruelling, but also most rewarding! If you've followed the steps above and carried out further research, you'll be in good shape to begin the application process.
Some job search sites allow you to upload your resume so employers and recruiters can find you – these are marked below!
Sites specifically for communications and related areas:
The PRSA
As Richard mentioned, the Jobcenter on the PRSA is a great resource listing jobs specifically within the public relations and communications arena:
We asked Richard to briefly summarise how the PRSA can help people looking for a career in the industry – his response:
There is myriad information on PRSA's Jobcenter. The information is organized by career level: the entry-level page is very robust, and we include information on writing resumes, networking, interviewing, salaries and a lot more. In addition to the Jobcenter, there is Mentor-Match, which assigns you to a one-on-one expert to help with your resume and industry questions. When you join a Chapter, you can attend events within your local area. Last but not least, joining PRSA entitles you to PRSA's archived Webinars: more than 60 webinars that focus on social media, social media boot camps, writing, crisis communications, employee communications and integrated communications.
Ballyhoo
Another site specialising in jobs in PR, social media and communications: "the number 1 job board for PR & Comms":
Communications Jobs
This one does just what it says on the tin:
The sites below are more generalised, so you will need to use the search functionality to filter jobs related to communication:
Monster
Perhaps the most famous job search site. Monster also offer a resume writing service, here:
Indeed
They refer to themselves as "the world's #1 job site" – a bold claim! The search functionality looks at 1000s of external sites as well as jobs uploaded directly by employers:
LinkedIn
The ultimate networking site:
USA Jobs
This site lists job opportunities within Federal agencies and organisations:
Idealist
Job opportunities for non-profits are listed on Idealist, whose mission is "to close the gap between intention and action by connecting people, organizations, ideas, and resources":
Also consider signing up to email alerts for some/all of these sites to get opportunities sent straight to your inbox.
If you have a specific company in mind, head over to their website and see if they advertise any vacancies. These may be referred to as 'jobs', 'careers', 'opportunities' or something else: dig around!
Other things to consider
Familiarise yourself with the AP Style Guide, which has been described as "a bible of sorts for professional writing".
And some final thoughts from Richard:
What is the top tip you would give to somebody looking for a career in PR?
Always stay relevant. Keep your media skills current. The more tools you are aware of within social media, the more valuable you are to your bosses.
Is there a particular piece of advice you hear given often that you think is not helpful?
When people generically say, "writing, writing, writing" – I find it too vague. To be a successful person in communications, you must really understand how all social media, public relations, marketing and communications plans come together to reach out to your audience. You will write differently for social media than for print, e-newsletters, or the web. However, you do have to be able to monitor your company's reputation and keep a consistent overall message across the different media venues.