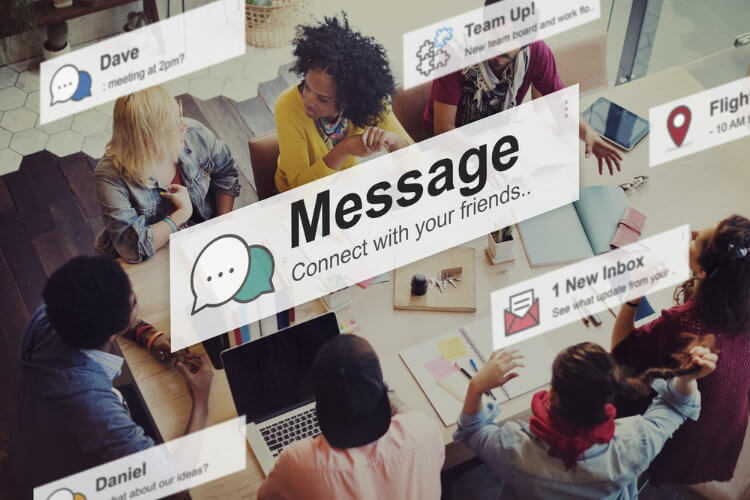 Read our Consumption of Communication Whitepaper here .
Technological advancements have left us awash with options when it comes to communicating in the modern age. But are we taking advantage of this greater level of choice, and how is it affecting our lives?
To find out, we surveyed 2,000 Americans on their use of 23 common communication platforms (shown below), covering everything from social media to dating apps. We then asked what impact, be it positive or negative, they are having on our personal and professional lives.
| | | | |
| --- | --- | --- | --- |
| Twitter | Facebook | LinkedIn | Google+ |
| WeChat | Reddit | Instagram | Snapchat |
| Flickr | Tumblr | Skype | Facetime |
| Google Hangouts | Join.me | GoToMeeting | Facebook Messenger |
| Whatsapp | Viber | Tinder | Match.com |
| OkCupid | Bumble | Happn | |
In our Whitepaper, we investigate our findings in greater detail, using valuable insight from experts in business, psychology and telecommunications to discuss technology's growing influence on communication. Here, we summarise some of our most significant findings.
Modern Communicative Platforms Are a Huge Part of Our Lives
A staggering 92% of all our respondents said they use at least one of the 23 suggested communicative platforms daily – a display of how important they are to people of all generations in the modern age.
Facebook is the most commonly used platform, with 87% of people saying they use it daily, followed by it's partnered app Facebook Messenger (58%). Other social media platforms such as Twitter (43%, Google+ (39%) and Instagram (37%) made up the remainder of the top five.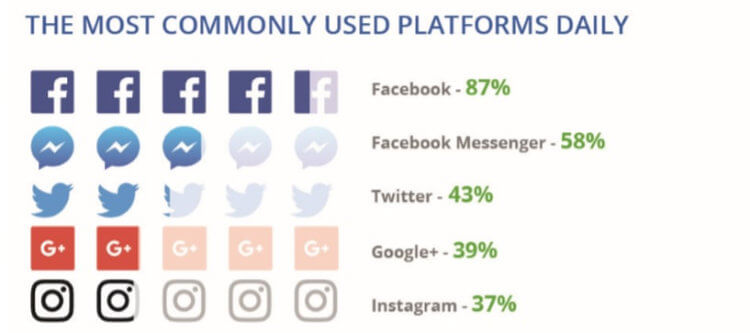 At an average of 3.6 platforms used daily, adoption across a number of platforms is commonplace. Combine it with our findings on how long people spend on them, and you get an even greater picture of the role they play when we communicate.

WeChat was found to be the most time-consuming communication platform, with users spending an average of 1 hour 37 minutes on the app daily. Scale that up, and users spend an average of 11.3 hours of their week on the app – or 24.5 days of their year.
Alongside being the amongst the most time-consuming platforms, instant messaging apps such as WeChat, Viber and, Whatsapp feature heavily when we look at how often people check the listed platforms.
| | |
| --- | --- |
| Platform | Times checked daily |
| Viber | 5.91 |
| Bumble | 5.78 |
| Join.me | 5.76 |
| OkCupid | 5.72 |
| WeChat | 5.72 |
| Tinder | 5.72 |
Instant messaging app Viber came out top of this statistic. An average of 5.91 checks per day equates to 2,157 every year.
Using our data, we can gather some insight into our use of different types of platforms. Social media sites such as Facebook and Twitter are more widespread in their daily use, but we consume them with less intensity than instant messaging apps – which have higher average consumption times and checks per day.
Despite the level of saturation in our personal lives, businesses are a little slower in their adoption of modern communication platforms.
Whilst businesses may use 1800 numbers to allow customers to communicate with them more easily, we found a less regular use of modern communication platforms and apps in the office than in the home.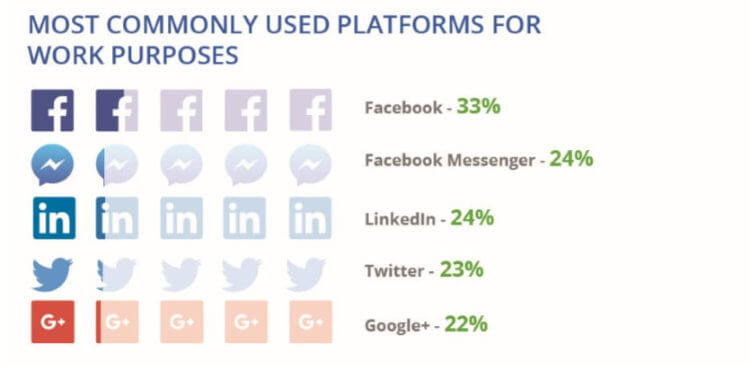 The most commonly used workplace platforms align with those in the home, but each one drops significantly for businesses purposes. 54% fewer people said they use Facebook for work purposes, whilst 34% less use Facebook Messenger and 20% less use Twitter.
Despite that, 40% said they consider communication in the workplace to be easier thanks to these platforms.
We Feel Reliant on Technology to Communicate
Over 50% of the people we surveyed said they feel either "somewhat reliant" or "very reliant" on technology when communicating.

The pragmatic benefits that come from using these platforms has lead to a state of dependence in half our respondents.
Millennials Are Leading on Adoption of Communicative Technology
Throughout our study, we found that millennials (those aged 18-34) were more inclined to side with new communication technology than older generations. Not only were their levels of daily use higher but so too is the average daily consumption time of these platforms.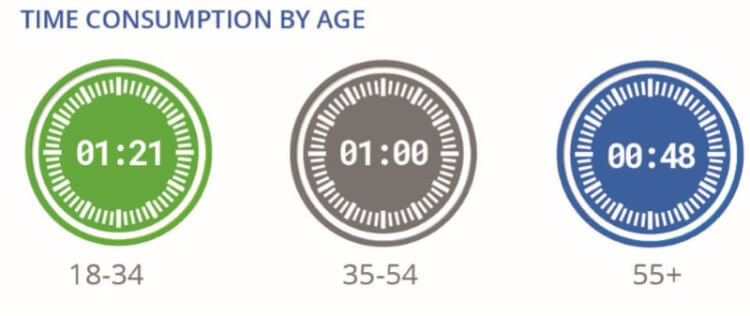 Millennials were found to spend 35% more time daily communicating via these platforms than those over 35, and 70% longer than those over 45. Such is their level of proficiency, millennials are also leading the adoption of technology for everyday activities.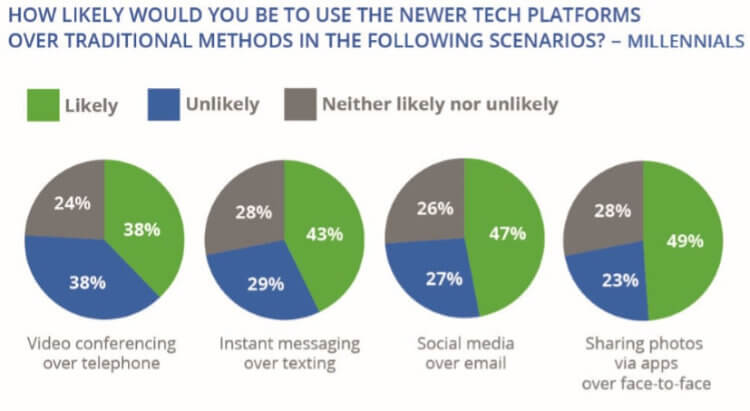 The convenience technology provides us means we can do any of these things instantaneously, with people at any corner of the world.
Almost three-quarters of millennials turn to technology when having a conversation with friends, sharing an image with someone, sharing news or having a group conversation with friends.
And They Feel More Reliant on Technology to Communicate
An increase in usage also brings an increase in the reliance millennials feel technology has on their lives. That extends to the workplace, where millennials are much more likely to consider technology as a crucial part of their career.
We asked people if, and if so to what extent, their jobs would change without access to these communication platforms.
| | | | |
| --- | --- | --- | --- |
| | 18-34 | 35-54 | 55+ |
| My job would not exist | 8% | 7% | 1% |
| My job would have to alter dramatically | 19% | 13% | 3% |
| My job would after slightly | 25% | 17% | 14% |
| My job would not change | 48% | 63% | 82% |
Over 1 in 4 Millennials (27%) said their job would either not exist or would have to change dramatically without the use of communication platforms, up from 20% for 35-54 years old and just 4% for over 55s.
Indeed over half (52%) said their job would have to change to some degree, 15% more than 35-54 years olds and 35% higher than over 55s. It's an indication of the changing landscape of the jobs market, where proficiency in modern tech platforms is increasingly necessary for Millennial employment prospects.
Given that many believe that technology is crucial to their professional lives, it's no surprise to see more Millennials consider themselves to be reliant on the very technology that helps mold their personal and professional lives.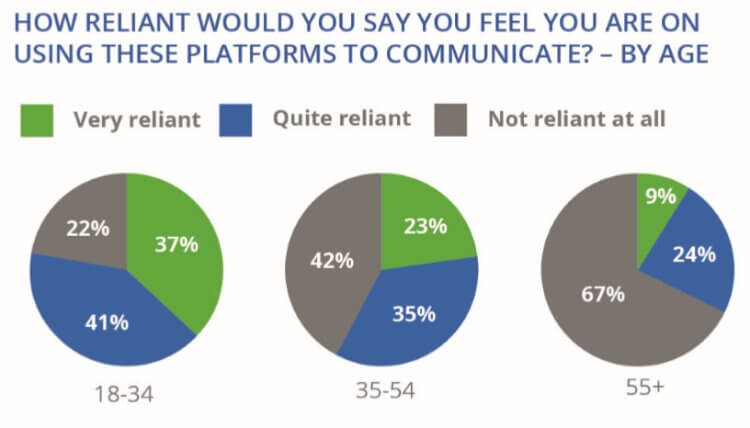 As many as three-quarters of millennials said they feel "somewhat reliant" or "very reliant" on technology when communicating. So ingrained are these technologies in the lives of younger generations that it's lead to a reliance on both a personal and professional level.
Consumption of Communication – Download our Free Whitepaper
Using valuable insight from experts in business, psychology and telecommunications, our Whitepaper further investigates the changing dynamics of communication, including what these findings mean for your business.