Becoming a digital nomad in the 21st century has become so simple that it's becoming a leading trend, and with the need to shift working habits during the COVID-19 pandemic, more companies are rethinking their working business models.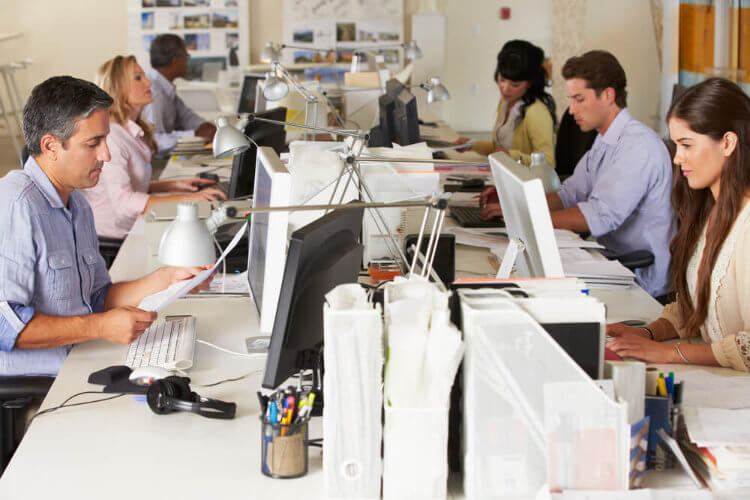 New innovative working spaces are paving the way of how we operate, presenting new opportunities and expectations for businesses and the future of employment. Virtual offices, hot-desks, cofficing (the coffee shop office), and co-working are only a few of the leading trends for the modern employee. So what are the pros of being a working nomad and how can you become one?
What are the benefits?
First and foremost, overheads are kept to a minimum as there's no or little rent and utilities to pay. Of course, this depends on whether you're sharing a desk, working from a coffee shop, or running an office from home. Either way, the beauty of such a business model means that a business can be set up anywhere and at any time.
Life and business coach, Rasheed Ogunlaru, says the mobile office gives companies and their employees an opportunity to work in a fluid and flexible style with continuous opportunities.
"Not having a fixed base means that you can travel to where your customers, business, and suppliers are. The advancement of technology and connectivity means that you can do business from anywhere where you can get reception and can be online."
Secondly, you're not tied down to an office, so you can be proactive by visiting clients, attending networking events, and going 'the extra mile' as the day-to-day activities are not tied down to a desk.
Jane Muts, manager at Garage48 HUB, says that another benefit of open working spaces is the independence it brings and its 'no long-term obligations'. Working in different locations can be a great source of inspiration. By being out of the typical static office, a world of opportunities open up and can be influenced by senses, locations, people, and events. Then there's the possibility of shifting space when there's a need to change the energy or 'blue sky thinking' for those who prefer being outside.
Taking charge of the day and doing things in a unique way is another advantage of the wandering office. The day can adapt according to what makes sense for your staff and clients, with the flexibility to tweak the business to match marketplace expectations.
But there can be difficulties…
By living in a tech-savvy world, there can be one major downfall to working on the go and it often is an inevitable issue of connectivity. Phone, fax, emails, and apps are just a few of the daily services a business might rely on, yet being available 24/7 can be impossible if you are on the move.
From a management point of view, this can make it difficult to manage and liaise with staff, and clients may become concerned by the lack of communication. "It's not for everyone," says Rasheed Ogunlaru, "some people need a set, focused desk to feel anchored to, so it requires being organized and disciplined."
Having an office on the move will also be a test of focus and motivation. By having a moveable office, it may occur just how many distractions there are, with small factors such as noise being an easy disruption.
Consideration also needs to be taken into whether office appliances such as a scanner or printer are essential. Not every working location may have the facility to offer such services, so it must be planned into your day.
Another point Jane Muts highlights is the surrounding constraint of confidentiality. Certain locations you operate from may not have the facility to have a room where a private conversation can be held, whether it's addressing staff or discussing business with a client.
10 top tips for the 'office on the move'
If you've balanced the pros and cons and still think a nomad office could be for you, take a look at our top tips to make your experience as seamless as possible:
1.    Invest in a toll-free number
By having a toll-free number, you will be able to work from any location but give your clients or potential customers the impression that you're working from one static location. This will create a sense of authority, confidentiality, and credibility, even if you're on a beach in Hawaii or working alfresco out in a park.
2.    Sign up for co-working spaces
JournoRequests.com founders, Ed Moyse and Harry Huang, encourage other flexible workers to join creative hubs:
"Popular co-working spaces are cropping up all over the world, and it's a great place to meet other nomads – from software engineers to Internet marketers to remote tax advisors."
3.    Listen to white noise
For days when you're feeling easily distracted or there is just too much chatter taking place, listening to white noise will help to regain focus. Many websites offer sound bites or downloadable files and will block out any irrelevant sounds.
4. Schedule Calls
There may be instances when you're traveling or working in locations where communicating with a client is limited. Whether it is noise, poor connectivity, or even just the wrong time of day, think ahead and plan in calls for times when it's suitable for both parties.
5.    Back up work
Don't forget to save and make a backup of all the work you do. Electronic copies will avoid losing hours of your hard work.
6.    Get tech-savvy
Working away, abroad, or even at home without the support of co-workers could at times mean being in technical difficulty. Especially if you are on the move, it's essential to know the quick fixes to your technical issues.
7.    Be honest
Be honest about your working locations with any members of your freelancing staff, clients, or suppliers, as it will help to develop a great relationship. Opting to operate via an open and flexible office has its advantages, so why not tell your clients how this benefits them too.
8.    Take advantage of apps
There are a lot of great applications available to help the office on the move. Teams, Trello, Slack, and Prezi are only a few programs that will aid communication, visualization, presentation, and the ability to share and sync work-related content.
9.    E-sign your work
To make life and work a lot easier, sign and scan in a copy of your signature for any important documents so that you'll always have an electronic copy at hand for instance when a printer is not at hand to physically sign.
10.  Cache emails
By caching your emails, you'll still be able to work on them and create draft responses even when you have no online access.
The mobile office has many benefits but requires care and consideration. For businesses looking to adopt such a model, it's essential they consider the ways of working that are suitable all-round. Getting it right could improve efficiency and creativity, but getting it wrong can cause all sorts of headaches and could damage reputations, relationships, and the overall productivity of the company.
The world of business is constantly on the move and with the changes in our social and economic structure; flexible working seems to be very much the way forward.