How to Get International Phone Numbers in Emerging Markets
For companies that are based in the U.S. but do business overseas, a common problem is finding reliable phone service in the business's host nation. In countries that are developing, have experienced recent wars, have state-run infrastructure or that haven't secured outside investment, it may be difficult to attain a phone number for your business, and if you do, service may be spotty, unreliable and expensive.
These infrastructural issues, however, need not become barriers to tapping into these growing markets. The advent of VoIP has dramatically changed the telecommunications possibilities for global businesses, allowing for reliable and cost-effective solutions to entering new markets, even those with potential challenges.
Below we survey three growing markets currently experiencing difficulties with their telecommunications infrastructure, followed by the go-around solution: international call forwarding.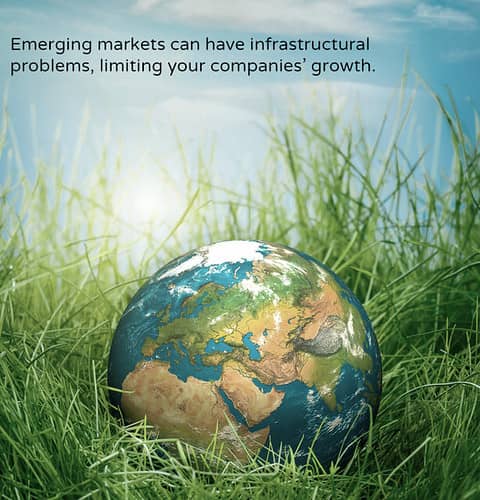 Consider a few of the problems found in the following emerging markets:
Kenya
Though called by the IMF one of Africa's economic success stories, out of more than 150 countries profiled by a top communications and media data center, Kenya is among the most difficult to acquire a reliable calling system for companies that are based in the US. First of all, Kenya relies on a system that usually transfers business data through a tiny aperture terminal, or VSAT, system. Second, the African nation has a fixed-line national telephone system the is inefficient and dramatically undersized. Finally, trunks are generally microwave radio relay. The study summed up Kenya's system as 'inadequate'.
Azerbaijan
With substantial reserves of oil and natural gas, Azerbaijan has seen more recent and major foreign investment than most nations in the Caucasus. For US-based companies doing business there, however, the former Soviet Republic's national telephone system leaves much to be desired.
The same comparative study pointed out that Azerbaijan has a fixed-line system, which, along with many other telecom services, are owned and operated by a state-run monopoly. Corruption and mismanagement have left growth and upgrades nearly stagnant. Outdated and broken, their system will need dramatic repairs and expansion in order to become a modern, reliable system.
Ecuador
Generally expected to suffer deeply due to the Global Recession, Ecuador's GDP in fact saw contraction for only three quarters and is now at its twenty-year growth trend. This makes it attractive to foreign investment in Latin America. Its telecommunications system, however, remains problematic. Described as "generally elementary but being expanded", Ecuador has a long way to go before that expansion is complete enough to be reliable for businesses headquartered in the US.
One obvious red flag is that out of 151 countries profiled, the nation earned the unfortunate distinction of being the most expensive to make a call per minute. Ecuador's average of .6 cents was unacceptably higher than the global average of .1 cents.
International Call-Forwarding Services
Also called call-diverting services, international call-forwarding allows businesses to route phone calls — originating from essentially anywhere in the world — to a remote location housed in a country with a safe, secure, reliable telecom network.
Whether the business chooses a local number, a toll-free number or a vanity number, they acquire and retain a phone number that is theirs alone — and doesn't rely on the infrastructure of the business's host nation.
Features
As with anything else in the world of telecommunications, there are competing companies that offer similar services. The needs of each business are, of course, unique to their own industry, size and location. But there are some universal features that should be offered by any company you are considering hiring:
Unless the circumstances are extraordinary, there shouldn't be set-up fees. You should also be able to begin using the service within just a few moments of activation. So again, unless there are extenuating circumstances, there shouldn't be any waiting period.
Beware of companies that require monthly or long-term contracts. This is not necessarily an indication of an incompetent or unscrupulous provider, it's just a hassle that you can avoid by hiring one of the many services that have "cancel anytime" policies. If your business decided on a minutes-based plan, the firm you select should offer rollover minutes, allowing you to recycle unused minutes between billing cycles.
Perhaps most importantly, check that your provider offers sequential forwarding. This feature passes incoming calls along to several phone numbers in the case that the first — or second or third — are busy. A customer should never hear a busy signal.
As the Internet and mass travel makes the farthest reaches of the world more attainable for even smaller businesses, one thing has not changed: voice communication remains unequivocally necessary. With emerging markets often relying on dilapidated, state-run infrastructure, businesses must find a way to keep lines of verbal communication open. International call forwarding may provide an inexpensive, reliable option to establishing an actual phone line in a remote location.